Kill Dil 12th Day Public Response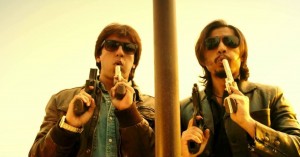 Kill Dil response and pace has been decreased after the release of the latest flick Happy Ending. The last weekend was not as good as per collection terms for the film. There were many expectations from the movie but the not so affective entertainment factor and non unique script results in average business. The story and work done by stars in the movie is quite good which have contributed in high collection in 1st week on screen but second week seems quite a failure for the film.
The drop in business from the first weekend is around 72 % which is decent in today's time and more so because it is facing serious competition from Happy Ending which is doing well in multiplexes. It has covered the journey of 12 days with somewhat mixed audience reaction as the young audience liked the movie but on the other hand elder ones did not seem to be that much connected with it.
Kill Dil 2nd Tuesday Box Office Business
Being a well star casted movie with good word of mouth opening, in the later days it did not picked up that well. Twelfth Day has appeared as just an ordinary and low business day for the film making total business off around 0.70 Crore* today. One drawback was that the story did not appear to be connective and that is why audience felt not so attached with the film.
At the end this much publicized movie could not cope up with the critics and audience expectations and has resulted in just average film with decent response by the end of 12 working days on box office.