Fourth Day Collection of Piku & Kuch Kuch Locha Hai
Both the latest films Piku & Kuch Kuch Locha Hai had completed their 4 days at the box office today and in these first 4 days these films have not been much good if we look into the box office figures especially Kuch Kuch Locha Hai which was touted to be a comedy genre but didn't attracted much family audience. Where both were expected earlier to gross nice figures in first weekend, only Piku had performed well in first weekend and today being 4th day it collected 4.40 crores. On the other hand Sunny starrer comedy film could not find greater audience throughout the weekend and now today being working day for public it grossed only 40 Lacs*.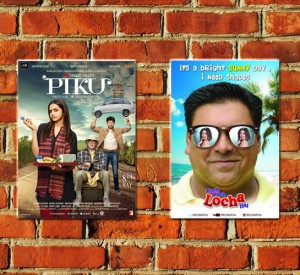 Both films have not done much well but Deepika Padukone and her presence have added up bulk of heat to Piku. Film being sweet story gained positive reviews & good collection today also but now that the weekdays have started both films are sliding down from the graph. Film music has created a buzz for Kuch Kuch Locha Hai but in spite of that no increase could be seen on board.
Movie got mixed response from the public and managed to open today with lower but still some response from the audience. Now it is the 5th day at the box office tomorrow and the earnings are not expected to see any rise in favor of Sunny starrer movie though Piku is still running smooth. After having decent opening and closing at the weekend, the box office collection of first weekday had been lesser in account of both films.
On the 1st weekday i.e. the earning of the Piku is much better than Kuch Kuch Locha Hai. But overall collections had been decreased today on account of Monday as a weekday. Same performance is expected throughout the week but coming weekend may or may not bring some positive news for these films as new ones are hitting the theaters this Friday.