Luckhnowi Ishq Critics Review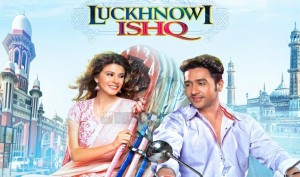 Luckhnowi Ishq is a 2015 Bollywood film directed by Aanand Raut and is a pure romantic love story scheduled to be release on 13th March 2015. The movie marks the debut of the female lead Karishma Kotak and comeback of the known actor Adhyayan Suman. Raaj Aashoo has composed the songs for the film. As per the critics the movie has been reviewed on different basis, starting from the music then it has got a decent music as by now it has not been able to attract much audience through its songs but still doing decent. The music is intended to be cool and youthful, but frankly we see only a normal romantic and not unique taste to it.
The promotions will have to be strong and the film will have to do really well for some of the songs to do well, that too in passing. Coming to the script then Luckhnowi Ishq is a usual love story set in umber cool Mumbai and mainly in Luckhnow as the name suggest itself. So overall, movie is not much entertaining getting hardly 2 stars from the critics.
Luckhnowi Ishq Expected First Day Income
Public expectations are set low hence film has not got anything in its favor. Luckhnowi Ishq is a youth-centric film which will mostly viewed by young generation because the story is revolve around today's girls & boys who act first & think later but Anushka Sharma's NH10 is also releasing same day reducing its chances more and making expected first day collection of hardly 0.15-0.20 crore*.
Public is expecting too low as the film has not got any unique factor in it. Till now movie looks far to do a decent business and open below average or at most averagely but the true performance will be seen when the film will finally get released.