The Messenger of God (MSG) Collection Report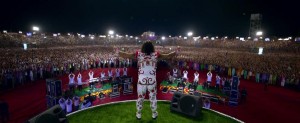 The recently released much buzzed and controversial flick
MSG
has completed 2 weeks journey on box office. After creating so high atmosphere of discussions and rumors, now there is being debates on how much the film has collected in total one week. The reports in turns are proving contradictory to each other as critics are saying totally different and the officials are showing it making high income. Starring Baba Gurmeet Ram Rahim Singh in the lead role, film got finally released after long period of wait and controversies and after getting in the theatres it has been doing well.
Though the discussions are lot of confusion to see as one may get confused between whose reports to believe in and what to follow further – critic's negative review or officials' positive review?
Well nothing can be said as sure due to unavailability of the exact facts and figures regarding the film but we are going to tell you reports of what both say. As per critics who have been showing totally opposite and negative attitude for the film, it has collected hardly 10 crores* in its total first week time. Yes the figure is too low as per the buzz and expectations but what critics say cannot be ignored totally.
On the other hand officials have another point of view for the film and as per them; MSG has made a fantastic business of more than 100 crores business in just a week time. These different and contradicting statements by critics vs officials have proved against and in favor of the film in their own manner.
But what is issue is that public is confused among all this debate that whether the film is to be taken as a good release or a flop? Well film has good content and nice story in its favor but many issue-able points in it too making it controversial at the same time hence we cannot justify it in any side positive or a negative release.