MSG Opening Day Response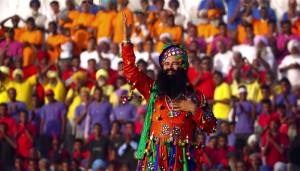 Based on the very sensitive issue of our society and evils present in it, the latest drama, action cum sensitive movie MSG has been launched on screens today on box office with much positive reviews and excitement among the audience.
After huge controversies released all over; the film is set on the story about the leader Gurmeet Ram Rahim Singh taking the responsibility of finishing all the evils of society and curing the youth problem of drug addiction etc. film due to great lead and nice story overall received huge response from his fans and followers throughout the places.
When you see, this movie is different from all other Punjabi and Hindi movies. It is really a beautiful movie to watch and connects so swiftly to every viewer. Due to star power and such a good script, film got a good kick start on its first day as compare to its screens. Film has set good standards for such films other than the typical masala or romantic movies.
MSG First Day BO Collection
The film made a good end to its first day performance by entertaining audience so well and collected approximately 14.5 crores* today. Though movies are not seen making any big impression on audience but this time it seems that Baba Ram Rahim changed avatar as action leader has entertained audience up to an extent.
Though we have seen some good Bollywood flicks getting publicity all over the country recently MSG has recorded positive collections on its opening day and will earn more in this weekend.
Check: Critics Review of MSG- The Messenger of God