First Day Public Response of Dishkiyaoon, Youngistaan & O Teri
After the hit and sensuous Bollywood movie Ragini MMS 2, box office has entry for new Bollywood films with different script and storyline. This Friday on 28th March 3 Bollywood movies got released namely Youngistaan, O Teri and Dishkiyaoon. Competition is very tough for the entire flick this Friday as each has its own uniqueness and plus points. Well Ragini MMS 2 is on a good run, on one hand movie has earned around 25 Crore in just first weekend. Now it's time to see whether these Friday releases can break the run of Ragini MMS 2. Till now seeing the box office collection figures it is quite clear that all the three releases failed to touch the business of Ragini MMS 2 that releases last Friday on box office. All the three releases Youngistaan, O Teri and Dishkiyaoon have opened to low occupancy than the expected one. Total occupancy for these flicks remained between the low ranges of 10-20 % only. Among which O Teri and Youngistaan still managed to get better opening than the much hyped and promoted Dishkiyaoon.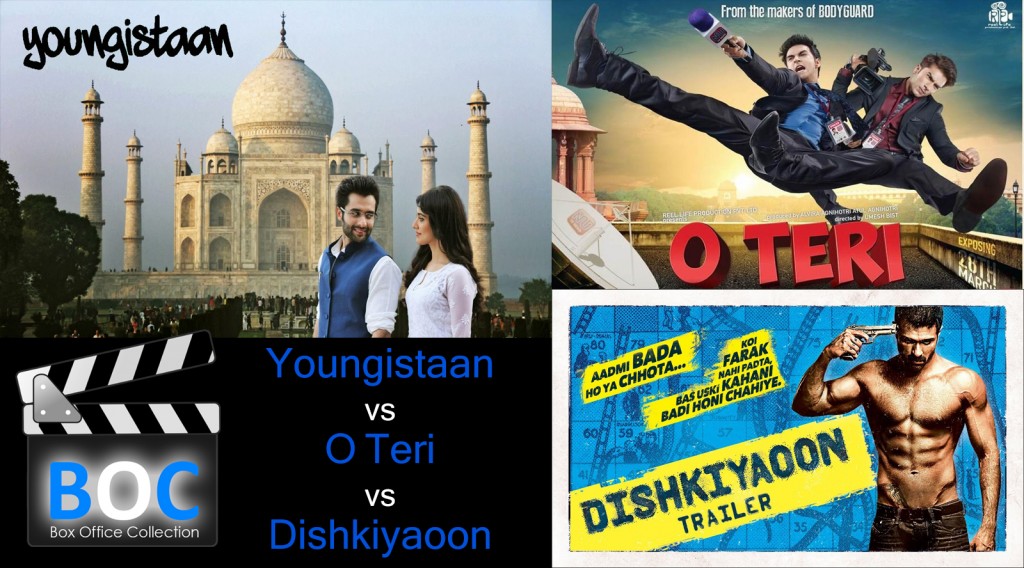 BO Collection of O Teri, Dishkiyaoon and Youngistaan on 1st Day
Release size of all the three flicks being quite the same, these Bollywood ventures have not only to fight on the box office for collections with each other but also with the last Friday hit release Ragini MMS 2 and even Queen which is still running well in theaters. On the first day of their release if go through the public response wise than there were mixed responses from the audience regarding all the three movies. Some of the public loved the comedy drama O Teri and some liked the Indian politics based Youngistaan. Only the action lovers went for watching Dishkiyaoon in the theaters.
Different public had different reviews regarding the feedback and entertainment quotient o the flick. Selecting a random movie to watch and feeling like wasted 3 hours is what we try to save for you. So for me movie which is complete entertainer and is worth watching among these is Dishkiyaoon in 1st position, Youngistaan on number 2 and O Teri at number 3.