Opening Day Public Response of Revolver Rani, Kaanchi, Samrat & Co. and Jatt James Bond
Today many films have released on box office including Kangana Ranaut starrer Revolver Rani, the debut movie of Mishti named Kaanchi, the detective thriller movie Samrat & Co. and the Punjabi movie Jatt James Bond.  From the hype perspective, none of the three films has managed to hit the roof, though there are good credentials involved. However, it is expected that there would be primarily a fight between Kaanchi and Revolver Rani, right from screen count, show timings to opening footfalls. Though not much is expected to differentiate between the two, Revolver Rani may just about manage to edge out the new releases as Day One comes to a close, especially if the word of mouth spreads out. It is a kind of film that could go either way, based on the acceptance of quirkiness that it has to offer. Audience seemed to be excited to go for Revolver Rani and Kaanchi in the areas dominated by the Bollywood moviegoers. How so ever in the northern part comprising regions of Punjab, there was hilarious craze of public for Jatt James bond.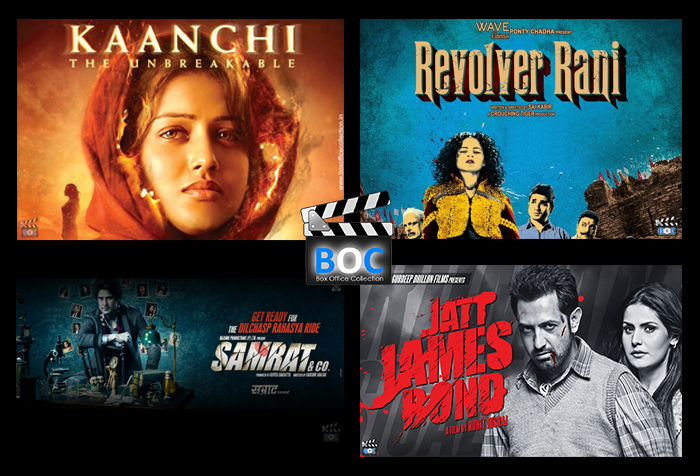 First Day Performance of Revolver Rani Vs Kaanchi Vs Samrat & Co. Vs Jatt James Bond
Each of these boasts of a merit of its own. Kaanchi sees the return of Subhash Ghai as a director and one waits to see if this is yet another larger than life cinema in the offering from him. Revolver Rani has Kangana Ranaut returning after Queen, which is still running in some theaters. Samrat & Co. is yet another thriller from Rajeev Khandelwal after Table No. 21 and Aamir, both of which were successes and Jatt James bond is another Punjabi movie with a lead singer turned actor Gippy Grewal. Samrat & Co. has shown bit as washout in many areas and the other two Bollywood releases Kaanchi and Revolver Rani are at close fights on box office from very first show of today. However we may expect that Revolver Rani is going to lead the race in the coming days as it's the only movie with star power like Kangana after the success of Queen. Kaanchi on the other hand may get affected either positively or negatively by the word of mouth of public. Looking at the performance of Jatt James Bond then as per audience review this action thriller  film would have best ever screenplay which were never experienced in older age films and also includes some rhetorical dialogues being spoke in delicate way.
 So talking about the competition overall, out of all the four releases today, audience seems inclined most towards Kangana Ranaut venture and Subhash Ghai return back in the film industry after 5 years. As per the public response and my personal review, if we rate all the 4 releases together in numbers then we may start with Revolver Rani, Kaanchi, and Jatt James Bond and on the least Samrat & Co.