Box Office Collection of Piku & Tanu Weds Manu Returns
After rock solid performance in its first three weeks and even in fourth week end, Piku box office collections have been steadily falling over the last few days due to the commencement of weekdays now. Another reason for its stagnant performance is the release of TWMR which snatched away most of the audience to the shows.
Hence movie now when is about to complete its fourth week tomorrow, it ended up today i.e. 27th day collection at 0.34 crore*. For Deepika Padukone who had a string of recent hits, the movie ranks in good list of 2015 movies till date. Movie that released near the beginning of this month has been doing well at the box office, though the business has fallen down in the last 2 weeks.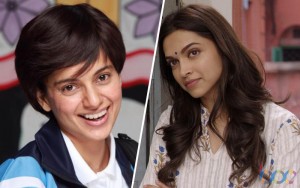 While the movie, which is not any biggie and high cost production, still managed to hold its lead through the 4 weeks but it has faced some fall in its report card too. The downtrend in the performance of Piku continued with the start of third week with the drop in the range of 15-20 % with each passing day.
Other movie TWMR which is the latest release has been fully able to find bigger audience towards its shows even in the second week too. Movie has crossed all the records of this year biggies by earning 100+ Crores in India. It is about to complete its 2 weeks journey with tomorrow's end but the figures reveals that it has already made effective performance on the big screens. On its 13th day TWMR made the business of around 4.35 Crores and now the total collection of the movie in India is 112.55 Crores.
It has been ranked as the highest grosser of this year 2015 within just 2 weeks performance and collection in India only. Also a weekday running for TWMR has not decreased public excitement and interest in the movie owing to good script and fantastic performance of the star cast. Movie is expected to cross much more figures in the coming days and weeks.