PK 19th Day Performance & Response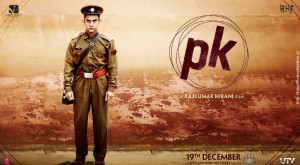 After making an impactful performance in the first two weeks now the Aamir Khan starrer movie
PK
has started getting affected by other latest movies and word of mouth factor. We know that this is the top highest grosser of last year and to cross its income is way too far for any movie right now but the fact is that by coming to the end of third week the film has been seeing considerable fall in its occupancy and income.
Though the fall is not too high or negative but seeing the past performance of the film the third week starting has not been that much favorable. How so ever now the weekdays have started and the film not getting much audience response yesterday and today also the rush outside the theatres was just decent.
PK 3rd Tuesday Collection
The movie had been on the theaters for numerous numbers of days and as no competitive movie released in the previous weeks the movie had got full advantage over box office. But by now maximum number of people had watched the movie and collection of the movie will show a downward trend from the third week weekdays. Anyhow the third Tuesday income of PK by the end of day is around 4.02 Crores. It is not too bad for the film considering the start of downfall trend from the second week.
The film has cleared the figure to be called as a blockbuster hit of this year and is right on its way to cross the mark of 325 Cr in its account in lifetime. So on the whole it has shown us the expected level of performance and we can't say that it has disappointed us at all. The film is very good entertainer and still giving good competition to latest releases.
| Box Office | Collection (IND) |
| --- | --- |
| Day 1 | 26.63 Cr |
| Day 2 | 30.34 Cr |
| Day 3 | 38.44 Cr |
| Day 4 | 21.22 Cr |
| Day 5 | 19.36 Cr |
| Day 6 | 19.55 Cr |
| Day 7 | 27.55 Cr |
| Day 8 | 14.48 Cr |
| Day 9 | 17.16 Cr |
| Day 10 | 21.85 Cr |
| Day 11 | 10.08 Cr |
| Day 12 | 9.11 Cr |
| Day 13 | 9.05 Cr |
| Day 14 | 14.05 Cr |
| Day 15 | 6.85 Cr |
| Day 16 | 8.32 Cr |
| Day 17 | 11.58 Cr |
| Day 18 | 4.42 Cr |
| Day 19 | 4.02 Cr |
| Day 20 | 3.46 Cr |
| Day 21 | 2.96 Cr |
| Day 22 | 1.82 Cr |
| Day 23 | 2.82 Cr |
| Day 24 | 4.01 Cr |
| Day 25 | 1.41 Cr |
| Day 26 | 1.24 Cr |
| Day 27 | 1.10 Cr |
| Day 28 | 0.93 Cr |
| Day 29 | 0.57 Cr |
| Day 30 | 0.88 Cr |
| Day 31 | 1.27 Cr |
| Day 32 - Lifetime | 4.27 Cr |
| Total | 340.80 Cr |