PK 3 Weeks Box Office Collection Report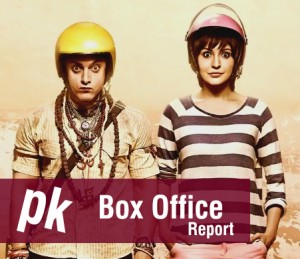 Breaking many records at box office, Aamir Khan and Anushka Sharma starrer recent movie
PK
has completed its 3 weeks journey at the big screen today. This mega budget film was released last month on 19 December 2014 near the occasion of Christmas. Not only in India but PK made record breaking performance in the overseas screens too and received marvelous reviews and response from all over. The film has been loved by all the audience all over the India and international countries.
It received mixed reviews and feedback from everyone whether critics, trade experts, celebrities, domestic audience or overseas viewers. PK has been claimed as the blockbuster and highest grosser of this all the time and in our Bollywood film industry history plus last year 2014 also.
Claiming such a magnificent position has been possible only due to smooth and decent performance of the film till now. We all know that it is now end of third week for PK and the day being a weekday saw average occupancy of viewers in the cinema halls but still movie fared nice figures in its account by end of the day.
PK made a good start today and due to nice weather more viewers could be seen opting for watching movie today even after the day being a weekday. This resulted in a positive income of film and it made total business of around 2.96 Crores on its 21st day of release.
Total 3 weeks performance is outstanding and way beyond the reach most of the Bollywood films. It has done an overall business of nearly 320.48 Crores till; its 3rd week end. This clearly shows how much it has been loved by audience.
PK 21 Days Complete Trade Record
| Box Office | Collection (IND) |
| --- | --- |
| Day 1 | 26.63 Cr |
| Day 2 | 30.34 Cr |
| Day 3 | 38.44 Cr |
| Day 4 | 21.22 Cr |
| Day 5 | 19.36 Cr |
| Day 6 | 19.55 Cr |
| Day 7 | 27.55 Cr |
| Day 8 | 14.48 Cr |
| Day 9 | 17.16 Cr |
| Day 10 | 21.85 Cr |
| Day 11 | 10.08 Cr |
| Day 12 | 9.11 Cr |
| Day 13 | 9.05 Cr |
| Day 14 | 14.05 Cr |
| Day 15 | 6.85 Cr |
| Day 16 | 8.32 Cr |
| Day 17 | 11.58 Cr |
| Day 18 | 4.42 Cr |
| Day 19 | 4.02 Cr |
| Day 20 | 3.46 Cr |
| Day 21 | 2.96 Cr |
| Day 22 | 1.82 Cr |
| Day 23 | 2.82 Cr |
| Day 24 | 4.01 Cr |
| Day 25 | 1.41 Cr |
| Day 26 | 1.24 Cr |
| Day 27 | 1.10 Cr |
| Day 28 | 0.93 Cr |
| Day 29 | 0.57 Cr |
| Day 30 | 0.88 Cr |
| Day 31 | 1.27 Cr |
| Day 32 - Lifetime | 4.27 Cr |
| Total | 340.80 Cr |