PK 4th Monday Performance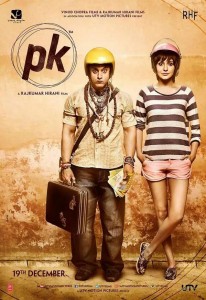 Coming to total 25 days performance and business report of PK, then this Aamir Khan starrer super hit movie has collected enormous business in this total journey till now. The film has completed its 3 official weeks on box office with tremendous public response and mind blowing income.
Box office report of film shows quite simple graph to understand its performance and business in this total duration. The film raised its position to peaking high level in the first two weeks, then the third week showed quite a plain and straight performance and then the fourth week currently running has brought the graph quite down.
The reason behind PK's success in the first 2 week was that firstly there was not any big competitor or release on big screen, secondly it is an Aamir Khan starrer film so all his fans went with craze in the early days and finally that the film was in the theatres near the time of Christmas. It gained excellent advantage from all the facts and managed to collect outstanding figures especially in the first 2 weeks of its release.
PK 25th Total Collection
Third week was not as much powerful as the early two and then and fourth week went more down due to another Bollywood biggie hitting the big screen- Tevar
, which is nowadays the latest movie released among all the flicks.
PK after facing both sides- record breaking and amenable public response in first 2 weeks & low and dull income plus audience feedback in the next two week has managed to collect 25th day income of around 1.41 Crore*.
Film is now running with low occupancy plus response due to other options as well as long period form release till date. It might run up to the completion of 1 month and then it is expected to close down from all the screens.
| Box Office | Collection (IND) |
| --- | --- |
| Day 1 | 26.63 Cr |
| Day 2 | 30.34 Cr |
| Day 3 | 38.44 Cr |
| Day 4 | 21.22 Cr |
| Day 5 | 19.36 Cr |
| Day 6 | 19.55 Cr |
| Day 7 | 27.55 Cr |
| Day 8 | 14.48 Cr |
| Day 9 | 17.16 Cr |
| Day 10 | 21.85 Cr |
| Day 11 | 10.08 Cr |
| Day 12 | 9.11 Cr |
| Day 13 | 9.05 Cr |
| Day 14 | 14.05 Cr |
| Day 15 | 6.85 Cr |
| Day 16 | 8.32 Cr |
| Day 17 | 11.58 Cr |
| Day 18 | 4.42 Cr |
| Day 19 | 4.02 Cr |
| Day 20 | 3.46 Cr |
| Day 21 | 2.96 Cr |
| Day 22 | 1.82 Cr |
| Day 23 | 2.82 Cr |
| Day 24 | 4.01 Cr |
| Day 25 | 1.41 Cr |
| Day 26 | 1.24 Cr |
| Day 27 | 1.10 Cr |
| Day 28 | 0.93 Cr |
| Day 29 | 0.57 Cr |
| Day 30 | 0.88 Cr |
| Day 31 | 1.27 Cr |
| Day 32 - Lifetime | 4.27 Cr |
| Total | 340.80 Cr |