PK 29th Day Performance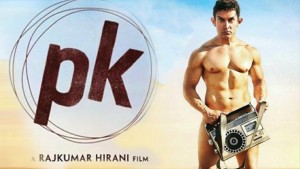 PK has completed its fourth week at box office yesterday with tremendous public response and mind blowing income and now is on its 29th working day. Box office report after 4 weeks shows quite simple graph to understand its performance and business in this total duration. Today film is one step near to compete its one month on box office and total response today has shown bit better than last weekdays.
Film has not shown much growth in the later weeks due to new releases as well as audience low response towards this film. But still it has somehow managed to keep up the pace on screens and survive better than most of the recently releases flicks.
PK 5th Friday Collection
Now that film is just around packing up itself from the box office, it is a significant fact that PK is still getting better response than many latest movies. Being one of the most immaculate releases of our history, film has somehow got bit income today and collected overall income of 0.57 Crore from domestic screens.
Film in so many days has won audience appreciation and critic applauds even after so much opposing attitude in between. Aamir Khan has once again successfully proved himself as one of the gems of our Bollywood film industry. Last time with Dhoom 3 and now with PK, he has both times been the lead of highest grossing movies ever of our film industry. This film based on very sensitive issue and loved by all for its real message and genuine characters.
| Box Office | Collection (IND) |
| --- | --- |
| Day 1 | 26.63 Cr |
| Day 2 | 30.34 Cr |
| Day 3 | 38.44 Cr |
| Day 4 | 21.22 Cr |
| Day 5 | 19.36 Cr |
| Day 6 | 19.55 Cr |
| Day 7 | 27.55 Cr |
| Day 8 | 14.48 Cr |
| Day 9 | 17.16 Cr |
| Day 10 | 21.85 Cr |
| Day 11 | 10.08 Cr |
| Day 12 | 9.11 Cr |
| Day 13 | 9.05 Cr |
| Day 14 | 14.05 Cr |
| Day 15 | 6.85 Cr |
| Day 16 | 8.32 Cr |
| Day 17 | 11.58 Cr |
| Day 18 | 4.42 Cr |
| Day 19 | 4.02 Cr |
| Day 20 | 3.46 Cr |
| Day 21 | 2.96 Cr |
| Day 22 | 1.82 Cr |
| Day 23 | 2.82 Cr |
| Day 24 | 4.01 Cr |
| Day 25 | 1.41 Cr |
| Day 26 | 1.24 Cr |
| Day 27 | 1.10 Cr |
| Day 28 | 0.93 Cr |
| Day 29 | 0.57 Cr |
| Day 30 | 0.88 Cr |
| Day 31 | 1.27 Cr |
| Day 32 - Lifetime | 4.27 Cr |
| Total | 340.80 Cr |