First Day Box Office Collection of 'Puli'
The very much awaited Tamil adventure fantasy movie Puli has released worldwide on Thursday at box office with a screens count of 3500. Being a well star casted and high budgeted movie, it has huge hype among audience in its dominated regions. The movie is getting mixed response from critics as well as audience across the globe after release. Fans are still in full support and we think this is enough to make it next blockbuster from South Indian cinema after Baahubali. Puli has made with the production cost of 118 crores and released in three various languages- Tamil, Telugu & Hindi.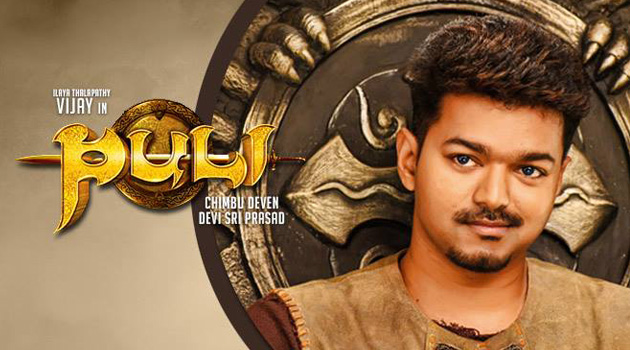 Well, the performance of the lead actor Vijay is being appreciated by everyone. The movie has integrated with very fine quality of VFX as we seen in Baahubali. But the thing that gives disappointment is its not so effective script. Because of its very high pre-release hype, Puli started on an excellent note at box office and recorded good occupancy in theaters. But it will has to face the negative impact of mixed reviews coming from viewers. Movie has also started good on overseas box office and minted excellent figures from there.
On its opening day, Puli recorded the expected occupancy of of more than 70% in India and minted the whopping amount of approximately 28.50 crores*. In many places, early morning shows of the movie that were scheduled for 4 am, 5 am, 8 am & 9 am, had been cancelled because of financial dues between producers & Qube – a company that provides movie streaming service. Sources reported, on overseas screens it has grossed near about 5 crores* as Thursday business.