2 Weeks Performance of Tevar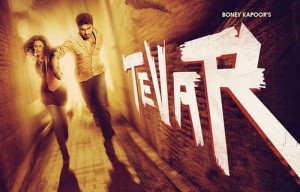 Tevar the recent romantic cum action movie has completed its 2 weeks time on big screen today. The movie has Arjun Kapoor and Sonakshi Sinha in the leading roles while Manoj Bajpayee cast in supporting pivotal role. Arjun has given an energetic and a splendid performance in the movie. He shows tremendous intensity and dexterity in portraying the role. Though, Sonakshi has very limited role in the movie, still she manages to make the most of her outing.
Other members of the star cast have also done a good job. It has received normal response from the audience in 2 weeks and is still running on the theaters in the. According to few audience reviews, this is a complete entertainer and pack of masala for all type of viewers though some did not find it interesting.
14th Day Total Collection of Tevar
Domestic Collection of Tevar is also not much commendable as the film in 14 days time has not gained any marvelous figure in its account. Although movie is receiving bit response from audience still the figures have been affected somehow from other releases. Thus, it can surely be said that Tevar comes in the category of normal releases, as it remained unsuccessful to conquer the audience hearts.
Well, looking to present box office reports, 14th day box office collection of Tevar movie is around 0.49 Crore* making its aggregate of 2 weeks around 40.84 Crores*. Its collections are not adding up good numbers to the total figure collected by the film specially the 2nd week has been very stagnant. It has now been 2 weeks for the film since the release and with coming Friday new flicks, this now might pack up soon due to negligence of the audience.