Shamitabh 3rd Day Box Office Response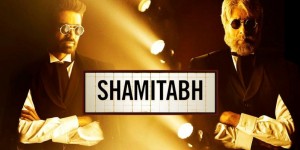 Shamitabh is the latest Bollywood movie that hit the box office this Friday along with one other movie in Marathi. This is a total masala and full of humor, drama and punches. In spite of an action oriented film, according to the film makers, this is a strong content & acting based film which gives good watchable content to the youth audience as well as family audience altogether. Movie star cast is known to everyone and both Amitabh Bachchan  and Dhanush have won audience hearts again.
Due to presence of such great names, audiences have felt excitement to watch it because they want to see their favorite stars. Shamitabh has been able to show good income throughout its first weekend & yes it is running good on box office with its third day i.e. Sunday being the best of all.
Shamitabh Sunday Total Collection
In just 3 days of its release date film has a good start in the opening day and excellent performance on main weekend day i.e. today. Movie collected good figures on its opening day as well as the first weekend have came out as favorable for the film which is a very good sign for it. Shamitabh is also going in some foreign countries like- Canada, U.S, Pakistan, Nepal etc. so it is clear that it will be having some additional income from internationals and overseas market.
By now it has collected 5 Crores on its third day being Sunday making its total of first weekend to be 13.25 Crores, which in fact is quite satisfactory. It is very straight fact that it is a mid budget movie and still doing good job but might not earn a huge amount like previous released movie Baby.
Shamitabh Opening Weekend Business Report
Friday Business- 3.5 Cr
Saturday Business- 4.75 Cr