The Shaukeens & Rang Rasiya, 6th Day Business Report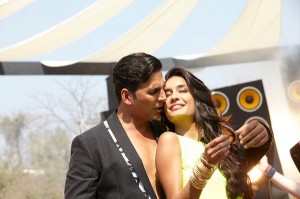 Both the small budget movie Rang Rasiya and the good budget one The Shaukeens which are latest releases last week, the first one has fallen on the ground. Audience has seriously ignored Randeep Hooda starrer movie and those who went were bit disappointed with their decision. The unnecessary adult factor pushed in to the script is also not entertaining though we have seen that Indian audience is now inclined towards such factors but still this flick could not trench its thirst through this reason too. With so average performance and audience response for today on its 6th day, this movie is expected end up this week or at most next week.
Talking about the latter, then this comedy dose The Shaukeens has got good a story or a strong characters both. Audience showed interest in it today and this resulted in decent income for it. On their sixth day of release these films have done ordinary job.
Also some big reasons for failure of both these flicks to become big entertainers were the low cost & budget, lesser promotions and less popular star cast which decreased the audience attentiveness for the film before and even after the release. After knowing 6th day performance of the film to be so decent for one and average for the other, box office collections of the films are different with The Shaukeens standing at 2.25 Crores* on its sixth day & Rang Rasiya making total of 29 Lacs* today.
This week seems end for Rang Rasiya and he Shaukeens is expected to survive next week too and after completing their one week on box office tomorrow these will show true colors till now.