Bombay Velvet 6th Day Collection Report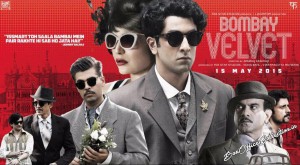 Now on its 6th day this latest romantic drama movie
Bombay Velvet
, is facing bit of suffering due to lowered audience craze & rush in theaters right now which is expected already. After being hyped hugely to cover good figures on screens due to Ranbir playing main lead; it could not stand on the level expected. But still it is earning average on box office. As per sources, Wednesday box office collection of Bombay Velvet is around
1.32 crore
. Although, the movie might recover its budget in its first week or with coming weekend as per predictions but still it has lot to do in coming days.
Also, till now it has occupied normal occupancy on screens these days on account of working schedules of viewers, low excitement level plus other competitors. Also, new movies releasing this Friday are expected to lead the box office from next week so it must make audience more attracted in it. The new releases will slow down the pace of "Bombay Velvet" at the box office, which will have an impact on its second week income for sure and that too negative.
After making normal opening in its first weekend, movie continued to perform average in the later days also. Audience response who has watched the movie is not that good until now but coming weekend collections of movie are expected to be bit better and obvious. This movie received great excitement of audience in before the release but later on fell down. It could not do much today again due to weekday being a working time and hence lower collections.
Overall it is a treat for the drama lovers plus Anurag Kahsyap's fans that were waiting long time for Ranbir Kapoor comeback. Story of the movie is confusing for some while entertaining for few. Let see how does it goes tomorrow and end up its first week with.