Shamitabh Movie First Day Response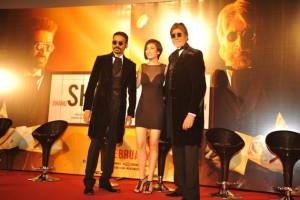 Being a typical
Amitabh Bachchan
lead flick, the latest film that hit the theatres today is
Shamitabh
. All fans and well wishers of him along with
Dhanush
were very eagerly waiting for his film from long time due to entry of both the stars again in an interesting movie.
Now that his film has been released today on box office so it is expected that the film will keep up the high hopes. To say positively, then they have done a secured trick by returning with most favorable genre of viewers i.e. drama, in which audience already loves them most for.
The film is based on the stories of strugglers, humor, bits of romance and drama along with some good music. So on the whole the film is a good treat for not only their fans but also for the family audience & youth generations as it contains all the elements in it for entertaining the public.
Today being the first day of release for the film, public has showed good interest in the film and went to cinema halls in groups and crowd. First day response of public for the film is above average.
Shamitabh Opening Day Collection
Opening day has brought decent income for this film and considering it a mid budget movie with no high promotions, the film took an average start today and made collection of around 3.5 Crores.
We all know that both these leads have had a good record in saleable as well as good movies like in their previous films, in addition to that the music of Shamitabh is in sync with both the film's subject and the market.
Film is inspired by tricks and trades getting the limelight and popularity and how it makes the mixture of Amitabh and Dhanush to form Shamitabh finally.