TWMR 4 Weeks Total Collection Report
All time blockbuster movie Tanu Weds Manu Returns has completed 4 weeks of release. The movie have wonderful journey at box office till date. From the very first day, TWMR has collected nice figures as well as huge appreciation and super positive response from audience. Everyone thoroughly enjoyed the movie and rated it as wonderful movie of year 2015. Kangana Ranaut & Deepak Dobriyal received huge appreciation and appraisals for their hilarious performance in the movie. After watching the movie everyone was just talking about them only.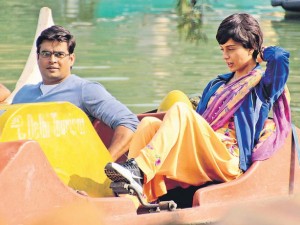 In its journey of 28 days,
Tanu Weds Manu Returns
made huge collection and become 2015's highest grosser movie so far with very high difference from second highest grosser movie Akshay's
Baby
. Along with that, it has also make records of 2015's highest weekend opener and highest week opener. In its first week, TWMR has collected the amount of 70.05 crores. As compare to other releases, second week of the movie was far better, in its second week it has collected 46.70 crores. Then its third week also, the performance was nice and made total collection of 19.96 crores.
Yesterday being the last day of its 4th week, the collection of the movie is recorded as 0.75 crore. The total income movie has made in its 4th week is near about 11.35 crores. Now the total collection of Tanu Weds Manu Returns in complete 4 weeks journey has become 145.06 crores. In this coming weekend, it is expected to touch the mark of 150 crores from Indian screens only.
| Box Office | Collection (India Biz.) |
| --- | --- |
| Day 1 | 8.75 Cr |
| Day 2 | 13.20 Cr |
| Day 3 | 16.10 Cr |
| Day 4 | 8.90 Cr |
| Day 5 | 8.20 Cr |
| Day 6 | 7.70 Cr |
| Day 7 | 7.20 Cr |
| Day 8 | 6.65 Cr |
| Day 9 | 9.40 Cr |
| Day 10 | 12.25 Cr |
| Day 11 | 5.20 Cr |
| Day 12 | 4.65 Cr |
| Day 13 | 4.35 Cr |
| Day 14 | 4.20 Cr |
| Day 15 | 2.70 Cr |
| Day 16 | 4.18 Cr |
| Day 17 | 5.40 Cr |
| Day 18 | 2.15 Cr |
| Day 19 | 2 Cr |
| Day 20 | 1.88 Cr |
| Day 21 | 1.65 Cr |
| Day 22 | 1.09 Cr |
| Day 23 | 1.75 Cr |
| Day 24 | 2.26 Cr |
| Day 25 | 0.85 Cr |
| Day 26 | 0.85 Cr |
| Day 27 | 0.80 Cr |
| Day 28 | 0.75 Cr |
| Day 29 | 0.55 Cr |
| Day 30 | 0.65 Cr |
| Day 31 - Lifetime | 3.84 Cr* |
| Total | 150.1 Cr |