7 Days Collection of Tanu Weds Manu Returns at Box Office
Directed by Anand L Rai, Kangana Ranaut & R. Madhavan starrer romantic comedy Tanu Weds Manu Returns has completed its first week journey today. It was the seventh working day for the movie and now the pace has been speed up in the later days very well as in the previous one. One week box office collection of TWMR is around 70.05 Crores which is excellent including the 7th day figures of 7.20 Crores.
It is totally a romantic comedy movie with Kangana in the lead role and other supportive star cast like R. Madhavan, whose chemistry was loved by audience very much. According to the reviews movie gets at least 3.5 rating from 5 which show that this is one of the very performances based and entertaining movies of Bollywood.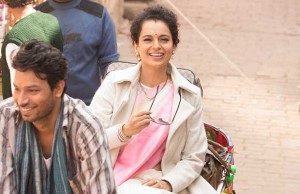 Audience who viewed TWMR loved it very much and has positive comments regarding movie's performance and entertainment quotient. We have seen Kangana giving much good acting specimen in her previous movies for which she was praised a lot.
As the movie was now on its end of one week today so it was obvious that the collections must have gone down but in case of TWMR we have seen an opposing rise in the box office collections of the movie in its later working days. Movie though did not start up excellent on its opening day but showed great rise in the first weekend and then later in the week.
We saw a commendable rise in the earnings of TWMR on box office throughout the first week. Overseas collections are also contributing a lot to the total collections by this movie. As TWMR has been shot in different locations also so this is adding up a great advantage for the foreign audience to connect with this romantic comedy.
| Box Office | Collection (India Biz.) |
| --- | --- |
| Day 1 | 8.75 Cr |
| Day 2 | 13.20 Cr |
| Day 3 | 16.10 Cr |
| Day 4 | 8.90 Cr |
| Day 5 | 8.20 Cr |
| Day 6 | 7.70 Cr |
| Day 7 | 7.20 Cr |
| Day 8 | 6.65 Cr |
| Day 9 | 9.40 Cr |
| Day 10 | 12.25 Cr |
| Day 11 | 5.20 Cr |
| Day 12 | 4.65 Cr |
| Day 13 | 4.35 Cr |
| Day 14 | 4.20 Cr |
| Day 15 | 2.70 Cr |
| Day 16 | 4.18 Cr |
| Day 17 | 5.40 Cr |
| Day 18 | 2.15 Cr |
| Day 19 | 2 Cr |
| Day 20 | 1.88 Cr |
| Day 21 | 1.65 Cr |
| Day 22 | 1.09 Cr |
| Day 23 | 1.75 Cr |
| Day 24 | 2.26 Cr |
| Day 25 | 0.85 Cr |
| Day 26 | 0.85 Cr |
| Day 27 | 0.80 Cr |
| Day 28 | 0.75 Cr |
| Day 29 | 0.55 Cr |
| Day 30 | 0.65 Cr |
| Day 31 - Lifetime | 3.84 Cr* |
| Total | 150.1 Cr |