Tevar Saturday Response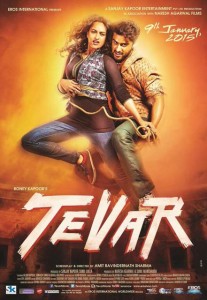 Tevar film was released yesterday and opened with an average business. Today it started with a high response towards the theaters than the expected business on its second day of release.
It has been expected a fantastic start on theatres at the domestic box office and also received mixed response from worldwide. However the second day box office business of the flick is quite good but aren't very awesome. It seems that the expectations which were earlier being created out of this flick are now appearing to be bit lesser true but still impressive enough.
Second Day Business of Tevar
Second day, night and evening shows picked this movie with positive note and showed effective growth in domestic box office which is a great support for it. It is also expected now that the film leads in North India (Delhi, Madhya Pradesh etc) and Mumbai mass dominated circuit. Anyhow on its second day it showed good response in metro cities like Delhi, Mumbai, Chennai, Calcutta and Jaipur and closed at 7 Crores.
The movie prediction reports says that it is expected that Tevar collection is expected jump 10% from opening box office collection tomorrow. Movie first day box office collection was good, second day great and now third day expected to be highest. Second day box office collection we have already updated you so now wait for tomorrow to know how much this buzzed film collected in first weekend form all over the places finally.
Check: Tevar Opening Day Business Report