Tevar 5th Day Box Office Response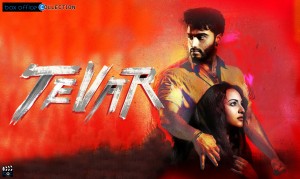 Tevar was released last Friday with high hopes and positive expectations from it. The movie has done good business in the first weekend but hasn't amazed anyone. Film will earn its manufacturing price with the completion of first week as per the expected reports due to smooth path to go on this week. Though film has got good reviews and response from the audience till now but still we can see that the income is not above par.
The youthful and favorable star cast of the film has managed to entertain the viewers. Audience loves the refreshing and their younger days of romance after watching this movie. Tevar on the whole, is doing approximately a profitable business till now.
The film has been depicted on a nominal basis of love, action, fight and a villain in it so it doesn't seems so unique to viewers. Most of the teens and college students are rushing towards the cinema halls and theatres to watch this superb movie but still occupancy in weekdays is falling gradually.
Tevar 1st Tuesday Business
Tevar has good music and has already become one of the hit songs of Bollywood
chart busters but the collection does not seem to be so good. Some of the audience did not like this movie too much. On the other hand it has entertained the audience but still lacks somewhere. By the end of today total fifth day income of film is around
3.15 Crores*
.
If we compare the business of film in comparison to the expected level of performance and income from it, then the business done till the end of fifth day is just satisfactory. The response of movie is positive from the audience but yet the collections are neither commendable nor disappointing.
Check: Last 4 Days Total Collection of Tevar