The Shaukeens & Rang Rasiya Ninth Day Report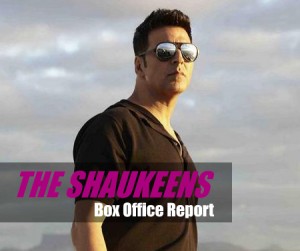 The comedy genre that released last Friday named
The Shaukeens
is still surviving on box office. Film opened with tremendous business on the first day of its release and continued to do good performance in the first weekend also. But the film shattered slowly and steadily in the weekdays. As per the estimates, the film recorded a drop of 10 – 15 % every single day. But yes now due to weekend time it has seen a rise in the occupancy as well as the business figures.
It is now ninth working day for the other film also apart from The Shaukeens named Rang Rasiya. This film opened today with slower pace but got decent growth in the later part of the day. Film weekday's business especially is not up to the standard and expectations but this weekend has added to ensure a good and decent total.
As both the films are seeing their second Saturday today, so this second weekend might add up more and much figures to the total 2 week figures. 9th day box office collection of The Shaukeens is decent and was closed at around 0.71 Crore* whereas Rang Rasiya 9th day income stood at not more than 5 Lacs*. Another decent Sunday will ensure a good 2 week total for the film and entry in the third week too.
First weekend collections were awesome and they paved smooth way especially for The Shaukeens to have a good trade in the later days. There are still many days left to compete its 2 week on box office so we are yet to wait and watch their performance in the remaining days.