Over the years, Hollywood movies have garnered a huge fan following among audiences across India. Popular franchises like Avengers, Fast & Furious, Jurassic World etc are the major reasons for the growing popularity of Hollywood in the country.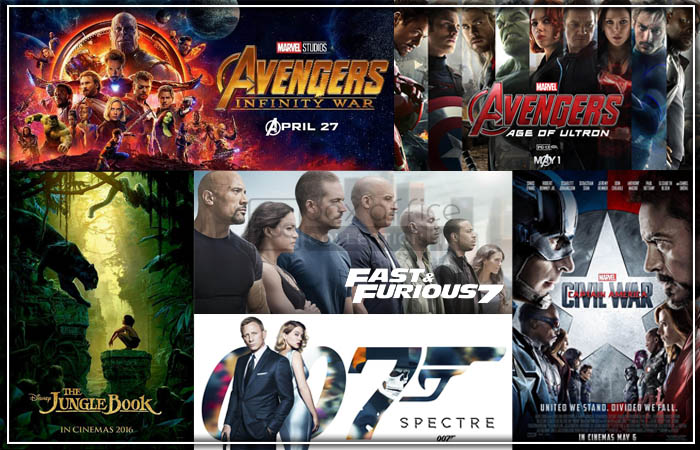 These days most Hollywood offerings not only do well at the Indian box office but also dominate the adjacent Hindi films. Currently, the top 5 positions in the list of top-opening Hollywood films are acquired by Marvel Studios' Avengers: Endgame with 53.10 crores, Avatar 2: The Way Of Water with 41 crores, Spider-Man: No Way Home with 32.67 crores, Avengers: Infinity War with 31.30 crores, and Doctor Strange: In the Multiverse of Madness with 28.35 crores.
Not only these four but most of the slots are also occupied by Marvel films as Marvel is the first international production house to start taking the Indian market seriously. The sixth position in the list is acquired by Thor: Love And Thunder (₹18.20 crores), followed by Hobs & Shaw (₹13.15 crores), Captain Marvel (₹13.01 crores), Fast & Furious 7 (₹12.30 crores), Deadpool 2 (₹11.25 crores), The Lion King (₹11.06 crores), and more.
Check out the top highest-opening Hollywood films at the Indian box office here-
| Movie | Release Date | Studio | Opening Biz (India) |
| --- | --- | --- | --- |
| Avengers: Endgame | 26 April 2019 | Walt Disney Studios | ₹53.10 Cr |
| Avatar 2: The Way Of Water | 16 December 2022 | 20th Century Studios | ₹41 Cr |
| Spider-Man: No Way Home | 16 December 2021 | Sony Pictures Releasing | ₹32.67 Cr |
| Avengers: Infinity War | 27 April 2018 | Walt Disney Studios | ₹31.30 Cr |
| Doctor Strange: In the Multiverse of Madness | 06 May 2022 | Walt Disney Studios | ₹28.35 Cr |
| Thor: Love And Thunder | 07 July 2022 | Walt Disney Studios Motion Pictures | ₹18.20 Cr |
| Hobbs & Shaw | 02 August 2019 | Universal Pictures | ₹13.15 Cr |
| Captain Marvel | 08 March 2019 | Walt Disney Studios | ₹13.01 Cr |
| Fast & Furious 7 | 02 April 2015 | Universal Pictures | ₹12.30 Cr |
| Black Panther: Wakanda Forever | 11 November 2022 | Walt Disney Studios | ₹11.70 Cr |
| Deadpool 2 | 18 May 2018 | 20th Century Fox | ₹11.25 Cr |
| The Lion King | 19 July 2019 | Walt Disney Studios | ₹11.06 Cr |
| Avengers: Age of Ultron | 24 April 2015 | Walt Disney Studios | ₹10.98 Cr |
| The Jungle Book | 08 April 2016 | Walt Disney Studios | ₹10.09 Cr |
| Spider-Man Far From Home | 04 July 2019 | Sony Pictures Releasing | ₹10.05 Cr |
| Mission: Impossible - Fallout | 27 July 2018 | Christopher Macquarrine | ₹9.75 Cr |
| Spider-Man Homecoming | 07 July 2017 | Sony Pictures Releasing | ₹9.36 Cr |
| Captain America: Civil War | 06 May 2016 | Walt Disney Studios | ₹8.53 Cr |
| Ant-Man And The Wasp: Quantumania | 17 February 2023 | Walt Disney Studios | ₹8.50 Cr |
| Spectre | 20 November 2015 | Columbia Pictures | ₹8.40 Cr |
| Jurassic World Dominion | 10 June 2022 | Universal Pictures | ₹8 Cr (+₹3.75cr Prev.) |
| Mission Impossible: Rogue Nation | 05 August 2015 | Paramount Pictures | ₹8 Cr |
| Eternals | 05 November 2021 | Walt Disney Studios | ₹7.35 Cr |
| The Fate of the Furious | 12 April 2017 | Universal Pictures | ₹6.29 Cr |
| Black Panther | 29 January 2018 | Walt Disney Studios | ₹5.60 Cr |
| Aquaman | 14 December 2018 | Warner Bros | ₹5.50 Cr |
| The Conjuring 2 | 10 June 2016 | Warner Bros | ₹5.25 Cr |
| Justice League | 15 November 2017 | Warner Bros | ₹5.25 Cr |
For: Highest Grossing Hollywood Films in India