In last several years, Hollywood movies have gained a huge fan following among the audience across India. Popular franchises like Avengers, Fast & Furious, Jurassic World etc. are the major reasons behind the growing popularity of Hollywood in the country.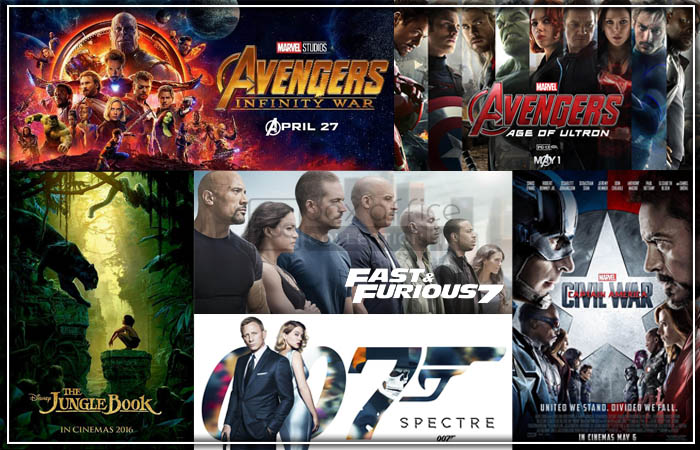 These days mostly English offerings not only perform well at the Indian box office but also dominate the adjacent Hindi movies. Just released Avengers Infinity War (₹31.30 crores) is the best example for that, which has emerged the top Hollywood opener of all time in India with a huge margin.
The second position in the list is acquired by Captain Marvel (₹13.01 crores), third by Fast & Furious 7 (₹12.30 crores), fourth by Deadpool 2 (₹11.25 crores), and the fifth by Avengers: Age of Ultron (₹10.98 crores). With ₹10.09 crores, The Jungle Book is at the sixth position, which is also the Second Highest Hollywood Grosser of all time at the Indian box office so far.
For more, checkout the top 10 openings by Hollywood movies at the Indian box office-
| Movie | Release Date | Studio | Opening Biz (India) |
| --- | --- | --- | --- |
| Avengers: Endgame | 26 April 2019 | Walt Disney Studios | ₹53.10 Cr |
| Avengers: Infinity War | 27 April 2018 | Walt Disney Studios | ₹31.30 Cr |
| Hobbs & Shaw | 02 August 2019 | Universal Pictures | ₹13.15 Cr |
| Captain Marvel | 08 March 2019 | Walt Disney Studios | ₹13.01 Cr |
| Fast & Furious 7 | 02 April 2015 | Universal Pictures | ₹12.30 Cr |
| Deadpool 2 | 18 May 2018 | 20th Century Fox | ₹11.25 Cr |
| The Lion King | 19 July 2019 | Walt Disney Studios | ₹11.06 Cr |
| Avengers: Age of Ultron | 24 April 2015 | Walt Disney Studios | ₹10.98 Cr |
| The Jungle Book | 08 April 2016 | Walt Disney Studios | ₹10.09 Cr |
| Spider-Man Far From Home | 04 July 2019 | Sony Pictures Releasing | ₹10.05 Cr |
| Mission: Impossible - Fallout | 27 July 2018 | Christopher Macquarrine | ₹9.75 Cr |
| Spider-Man Homecoming | 07 July 2017 | Sony Pictures Releasing | ₹9.36 Cr |
| Captain America: Civil War | 06 May 2016 | Walt Disney Studios | ₹8.53 Cr |
| Spectre | 20 November 2015 | Columbia Pictures | ₹8.40 Cr |
| Mission Impossible: Rogue Nation | 05 August 2015 | Paramount Pictures | ₹8 Cr |
| The Fate of the Furious | 12 April 2017 | Universal Pictures | ₹6.29 Cr |
| Black Panther | 29 January 2018 | Walt Disney Studios | ₹5.60 Cr |
| Aquaman | 14 December 2018 | Warner Bros | ₹5.50 Cr |
| The Conjuring 2 | 10 June 2016 | Warner Bros | ₹5.25 Cr |
| Justice League | 15 November 2017 | Warner Bros | ₹5.25 Cr |