The latest blockbuster movie of Bollywood, Bajrangi Bhaijaan has completed its journey of two weeks at box office very tremendously. It has minted huge collection figures till now from the day of its release. The movie is getting overwhelmed response worldwide from Bollywood lovers and the fans of Salman. Being the most positive Indian movie about the country Pakistan, movie received wonderful response there too. Bajrangi Bhaijaan has performed extremely well in its last 14 days. Today also, on the last day of its second week the movie has earned the amount which generally average movies collects on their first day.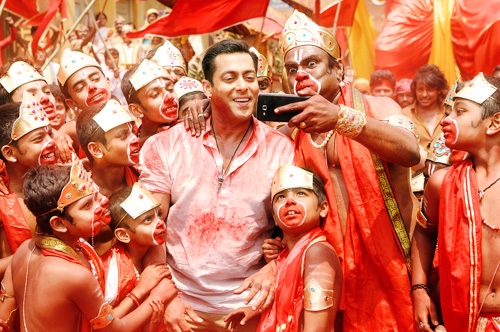 Fans of Salman still having great excitement for the movie and creating huge buzz on social media about it. With its second week, the movie crosses the mark of 400 crores at worldwide (domestic + overseas) box office and from its Indian screens it raked 272+ crores. As previous movies of Salman Khan, Bajrangi Bhaijaan is also a complete family drama movie and this is the reason audience of all ages enjoying it thoroughly. The little girl Harshaali who played the character of Munni in the movie, has received huge appreciation & love from viewers for her innocent performance.
Bajrangi Bhaijaan 14 Days Collection Report
Bajrangi Bhaijaan was performed terrifically good in its first week and minted total 184.62 crores at domestic box office. In its second week, there was no new movie got released and Bajrangi Bhaijaan gained full advantage of it. The movie has collected total 56.10 crores in its second weekend that includes 12.80 crores on its 8th day, 19.25 crores on 9th day and 24.05 crores on Sunday i.e. 10th day.
From weekdays, movie started facing slight drops in its business but still its total collection of last 3 days is 25.50 crores that includes 9.30 crores on its 11th day, 9.10 crores on 12th day and 7.10 crores on 13th day i.e. yesterday. Today its has recorded almost similar response as last day and minted slightly lower amount of 6.03 crores than yesterday. Now the total collection of Bajrangi Bhaijaan after 2 weeks has become 272.25 crores.
| Box Office | Collection (India) |
| --- | --- |
| Day 1 | 27.25 Cr |
| Day 2 | 36.60 Cr |
| Day 3 | 38.75 Cr |
| Day 4 | 27.05 Cr |
| Day 5 | 21.40 Cr |
| Day 6 | 18.02 Cr |
| Day 7 | 15.55 Cr |
| Day 8 | 12.80 Cr |
| Day 9 | 19.25 Cr |
| Day 10 | 24.05 Cr |
| Day 11 | 9.30 Cr |
| Day 12 | 9.10 Cr |
| Day 13 | 7.10 Cr |
| Day 14 | 6.03 Cr |
| Day 15 | 4.11 Cr |
| Day 16 | 6.80 Cr |
| Day 17 | 9.07 Cr |
| Day 18 | 2.75 Cr |
| Day 19 | 2.63 Cr |
| Day 20 | 2.45 Cr |
| Day 21 | 2.25 Cr |
| Day 22 | 1.45 Cr |
| Day 23 | 2.73 Cr |
| Day 24 | 3.51 Cr |
| Day 25 | 1.15 Cr |
| Day 26 | 1.02 Cr |
| Day 27 | 0.96 Cr |
| Day 28 | 0.91 Cr |
| Day 29 | 0.67 Cr |
| Day 30 | 0.89 Cr |
| Day 31 | 1.07 Cr |
| Day 32 - Lifetime | 6.30 Cr |
| Total | 320.34 Cr |