Box Office Collection of Ishqedarriyaan & Welcome 2 Karachi
Ishqedarriyaan is new released Bollywood movie starring Mahamokshay Chakroborty & Evelyn Sharma who both very new to Bollywood especially playing lead. Its low budget movie which was not much hyped and then also got postponed. Along with low budget Ishqedarriyaan is also a small star cast based movie. Before the release trade expert were expecting it to do at least good business at box office but it came out as dull on opening day and Yesterday also.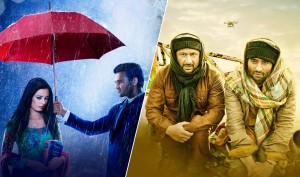 Story is usual and movie could collect low amount of only
0.32 Crore*
on its second day of release. Day being Saturday could not bring any satisfactory income in its account in spite of weekend time. It seems like audience has not any interest in watching this movie.
Talking about the Thursday release Welcome to Karachi third day box office collection, then before the release of it so many trade pandits were expecting it to do not much well at box office level but after seeing the first three day's audience response plus income then we can say one thing it has done average job.
Getting reviews of some trade pundit online who are not saying any good thing about it, according to them only 20-25% of people showed interest in this movie. Yesterday being third day for it, movie collected only 1.44 crore* which is just an average.
It is decent budget movie so it has to cover its cost soon to get in safe hands. It has already gained much advantage of releasing day before Friday and now the extended one day weekend for it might help it more to cover up with less collection.