I 1st Day Worldwide Performance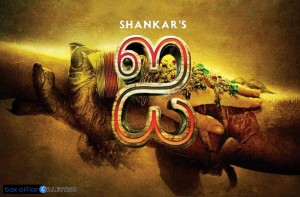 The latest Tamil venture
I
has been noticed record breaking in all the regions with its release today. This Vikram plus Amy Jackson Starrer latest action packed movie has attracted the foreign audience too as the trailers were big hit in abroad also. Due to so much publicity and hypes before its official release, this film is in huge attention of public in many foreign countries like USA, UK, France etc. most of the time we have seen that overseas markets have many viewers for Indian movies and that there are many fans followers of Indian superstars in international places including all the film industries whether Bollywood, Tollywood or rest.
Especially USA and UK are known for showing Indian films at a good number of screens on overseas markets. I released today on 14 January 2015 on all the places in Indian as well as international countries. Film opened fantastically and did good performance on its first day of release worldwide.
I Opening Day Worldwide Collection
I has released on huge number of screens worldwide so it is expected to make impressive business in the domestic and international box office. South superstar Chiyaan Vikram and Amy Jackson as well have good fan following in countries like UK, USA etc and hence he gained pretty well income in these region today. The occupancy was way good considering it a Tamil film that released in other languages too and still it managed to collect 36 Crores* as its total first day worldwide income.
On international screens, the film was quite awaited by the viewers as Vikram has given many hit films in his past that are mostly shown with great excitement and response in these regions. Being the solo film running in south field, audience was so much eager to watch the film and the first day income has been received by the viewers with around 80-85 % occupancy.