Akshay Kumar Impresses Everyone in Jolly LLB 2 Trailer
After setting huge buzz among fans, finally the official trailer of superstar Akshay Kumar's upcoming courtroom drama Jolly LLB 2 has been released on 18th of December. Most of the critics had watched it earlier and reviewed it with very positive comments, which had boosted the excitement level of fans. Now the trailer is out publicly and is getting wonderful response from viewers. Everyone liked it and looking forward to the movie, which is scheduled to be released on 10th February 2017.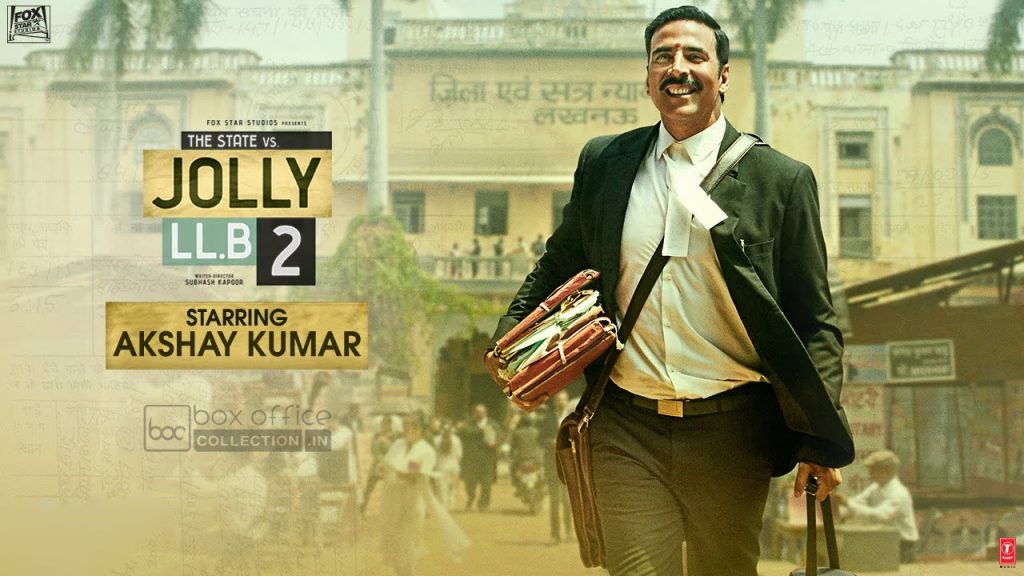 The trailer features the highlights of the movie, which promises for an interesting & humorous entertainer with great dialogues. Akshay Kumar as a lawyer is nailing and is being appreciated by everyone. Once again he has proved his versatility and all set to add another blockbuster in his list. Renowned actors Annu Kapoor & Saurabh Shukla are at their best in Jolly LLB 2, while Huma Qureshi adds great charm. Overall Subhash Kapoor's directorial seems strongly casted, well executed and intelligently crafted movie, which can set new records in its category.
See, what critics & celebs have to say about #JollyLLB2Trailer!
Taran Adarsh: Watched #JollyLLB2 trailer. Director Subhash Kapoor offers a glimpse of light moments, drama, courtroom scenes in this absorbing trailer. Akshay has evolved into a versatile actor. #Special26, #Holiday, #Baby, #Airlift, #Rustom… #JollyLLB2 will be another significant film. #JollyLLB2 has a strong supporting cast. Would like to single out Akshay and Annu Kapoor's confrontation.
Joginder Tuteja: Saw #JollyLLB2 promo: Film is high on drama. While there are lighter moments in there as well, they stem out of situational humor. Film carries forward ethos of Part 1. With Akshay Kumar leading the show, there is no compromise in the core spirit. Promo keeps the real issue under the surface and just brings to fore the characters, stage, setting and the anticipated battle. @AkshayKumar demonstrates his versatility as bizman [Airlift], conman [Housefull 3], Navy officer [Rustom] and now simple lawyer.
Umair Sandhu: Saw #JollyLLB2 Trailer ! Best @akshaykumar Trailer ever. He Nailed it ! Full on PAISA VASOOL Trailer ! Sure Shot BLOCKBUSTER ! @annukapoor_.
Faridoon Shayryar: "Wat a FITTING end 2 d finest year dat Akshay Kumar has ever had.He has rightly disowned silly award shows.He's ABOVE them #jollyllb2trailer"
Saqib Saleem: My fav hero and my fav person in a film together !! @akshaykumar @humasqureshi .. can't wait to watch it @subkapoor sir !! #jollyllb2
Bhumi Pednekar: Jolly is going to make us very jolly.Amazing.Can't wait to watch my most fav @akshaykumar kill it again @humasqureshi #jollyllb2trailer
Mohar Basu: #JollyLLB2 trailer has the wits of @subkapoor ,filminess of #AkshayKumar & thrill of a courtroom drama.Full blown fun, desi stuff.Bhai waah!
Urvi Parikh: Saw the trailer of @akshaykumar's #JollyLLB2. It's funny, entertaining and interesting with great dialogues! @subkapoor.
Shashank Rayal: Watched #JollyLLB2 trailer, it is simply superb, promises for a balanced dose of entertainment & drama with humorous dialogues. Yes @AkshayKumar has made it biggest courtroom drama with renowned actors @annukapoor_ & @saurabhshukla_s.