Vichhoda (Punjabi) Song Out Now
New heart cracking Punjabi song from the very popular Punjabi singer Amrinder Gill has been released out. The title of the song is "Vichhoda" which means Pain of Separation written by famous Bollywood lyricist Kumaar. The song Vichhoda is from Amrinder Gill's upcoming Punjabi movie Happy Go Lucky which is releasing on 21st November 2014.
Music of the song has been given by Jatinder Shah and mastered by Sameer Charegaonkar under the music label Saga Music. No doubt the song is very nice as Amrinder Gill always gives. On YouTube also, song is getting continuous views and gaining huge appreciation from listeners.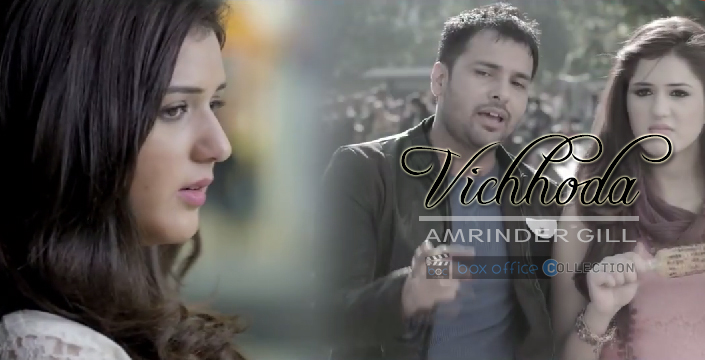 Song Details
Title: Vichhoda
Movie/Album: Happy  Go Lucky
Singer: Amrinder Gill
Music Director: Jatinder Shah
Lyricist: Kumaar
Mastered by: Sameer Charegaonkar
Music Label: Saga Music
Featuring: Amrinder Gill, Harish Verma, Sumit Sandhu, Isha Rikhi, Shruti Sodhi & Dakshita Kumaria.
Complete Lyrics of song "Vichhoda"
Ho…Vichhodeya ne saanu
Adha adha karta
Sukhe sukhe naina ch
Hanjuan nu bhar ta
Hath phad ke laqeeran ne
Kaanu phir chhadhta…
Kaanu phir chhadhta
Dil ch vasaya
Phir dil vichon kadhta…
Kyun dil vichon kadhta
Ho…Vichhodeya ne saanu
Adha adha karta
Sukhe sukhe naina ch
Hanjuan nu bhar ta
Vichhodeya ne saanu
Adha adha karta
Sukhe sukhe naina ch
Hanjuan nu bhar ta
Tut gayian ne
Jud de jud de
Ishqe diyan lagiyan
Teri raza si
Ya phir dasde
Taqdeeran diyan thagiyan
Rab kolo ruseya
Duawan vi nahi karda…
Duawan vi nahi karda
Thoda thoda jyonda dil
Bauhta bauhta mar da…
Bauhta bauhta mar da
Ho…Vichhodeya ne saanu
Adha adha karta
Sukhe sukhe naina ch
Hanjuan nu bhar ta
Vichhodeya ne saanu
Adha adha karta
Sukhe sukhe naina ch
Hanjuan nu bhar ta
Ho Ho…Yaadan de vich
Reh gayiyan ne
Teriyan hi parchhaiyan
Raah de vich
Door tak hun
Disdiyan ne tanhaiyan
Kade door hove koi
Pata nahiyo chalda…
Pata nahiyo chalda
Safar ishqe da bas
Hunda do pal da…
Hunda do pal da
Ho…Vichhodeya ne saanu
Adha adha karta
Sukhe sukhe naina ch
Hanjuan nu bhar ta
Vichhodeya ne saanu
Adha adha karta
Sukhe sukhe naina ch
Hanjuan nu bhar ta