#BaahubaliTrailer #LiveTheEpic
South Indian super stars Prabhas and Rana Daggubati are all set to give a blockbuster hit soon but for now they are going to start the trend by releasing the first official trailer of their most awaited movie Baahubali. This latest upcoming epic action movie Baahubali is in the huge media buzz and audience mind nowadays due to its highest ever budget in cinema industry of Indian i.e. of 130 Crores.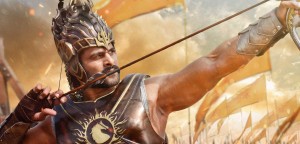 According to the box office experts and trade analysts the box office collection predictions of this movie have already gained too much publicity and public attention that it is expected that the trailer releasing today on 1st of June at 5:00 PM will get a trend setting response. Audience is so much excited regarding Baahubali first trailer as it is India's biggest motion picture releasing in Tamil, Telugu, Hindi, English & Malayalam.
Also the enormous response through the social media day before release of trailer is a live proof of immaculate audience pre release response towards this movie. It is slated to hit the theaters this 10 July 2015 but still exact date is not fixed but right now everyone has their eyes laid for the trailer of such a fantastic and historical movie releasing today.
All of the fans of entire star cast are very fascinated to watch them in such a fantastic movie. We have seen that audience have always loved Prabhas and Rana Daggubati whether we talk about any region of the south India like Karnataka, Andhra Pradesh or Chennai. This time they are being expected by the audience to cross all the records and set a new highest earning record among their lifetime movies in these regions.
As per the live tweets and comments seen in the social media and other places, it seems that viewers especially in these three regions are expecting great entertainment out of the trailer and it looks as if the trailer succeeds then the movie will definitely fulfill audience excitement level and high hopes from it.
Positive audience attitude is surely going to contribute well enough in increasing the response towards the trailer today but due to so high hopes, the trailer must entertain the audience in the like way.