Bajrangi Bhaijaan Official Trailer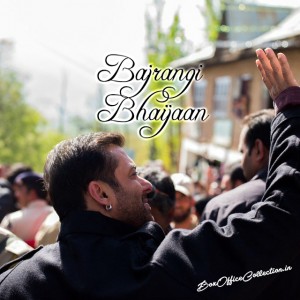 Being one of the biggest upcoming movies of this year, Salman Khan starrer upcoming romantic drama movie
Bajrangi Bhaijaan
has set a trend all over the box office so many days before its release. Critics and analysts have reviewed this movie as a huge release of this time and capable of breaking many or even all the records in this year. Movie is releasing in July so the expectations by the viewers are made that it can collect unexpected amount of the year.
As per the present craze of audience and their pre release reviews, the movie starring such a super star name of Salman Khan in it is no doubt already a hit. But this time he is coming with a totally different avatar of his and for another time his movie is facing so high craze and excitement that it has led the movie reach the 7th sky before its official release as public is going crazy after seeing its first look that was unveiled shortly. First look showed the Dabangg Khan in totally different and handsome character whereas Kareena could be seen so charming as always.
After seeing the first look public is demanding more from it and requesting film makers to reveal first official trailer. "#WeWantBBFirstLook" "#CantWaitFroBBTrailer" hash tags are trending on social media; as per the news in air the Official Trailer of Bajrangi Bhaijaan is to be released on 21st May. Apart from it, it is being said that the music, entertainment factor, story and all other elements required for a hit movie are all present in Bajrangi Bhaijaan making it first choice of critics as well this time.
Audience is too much excited to watch this movie as there are enormous fan following of Salman Khan not only in India but in the international countries too so movie is definitely going to lay a strong impact all over the India and foreign screens as well this mid July.
Is Bajrangi Bhaijaan Trailer Releasing on 21st May?
In the start of the month May, this is officially announced that the trailer of Bajrangi Bhaijaan will be released along with Tanu Weds Manu Returns. But the shooting schedule of the movie has completed yesterday, so how the trailer will get ready in one day? Today is 20th and there is not official bytes or tweets about tomorrow's release of trailer.
Due to Kashmir floods, the shooting schedule of Bajrangi Bhaijaan was delayed and has completed a day ago. May this delay has postponed the release of trailer to next week. But this should be announced officially for fans, as they all are eagerly waiting for the trailer.
Anyways, still there is no update related to releasing as well as postponement. So we can't say anything with a true copy mark. We all have to wait till tomorrow!