New Song from movie The Xpose "Hai Apna Dil"
Few hours ago, T-Series has released the new song 'Hai Apna Dil' of the movie The Xpose on YouTube. The song is featuring famous Punjabi rapper Yo Yo Honey Singh, Himesh Reshammiya & Sonali Raut. Ones again Honey Singh has given his rap in the song but this time in a new style, the main singer of the song is Himesh himself.
Lyrics of the song is written by Sameer Anjaan, actually not written he has done some modification in the song of 60's "Hai Apna Dil to Awara" from movie 'Solva Saal'. But doesn't matter the song sounds good and pleasant to listen. Before this, the song Dard Dilo Ke has left a wonderful mark and audience liked it very much. Hope this song will also get the same response from the audience.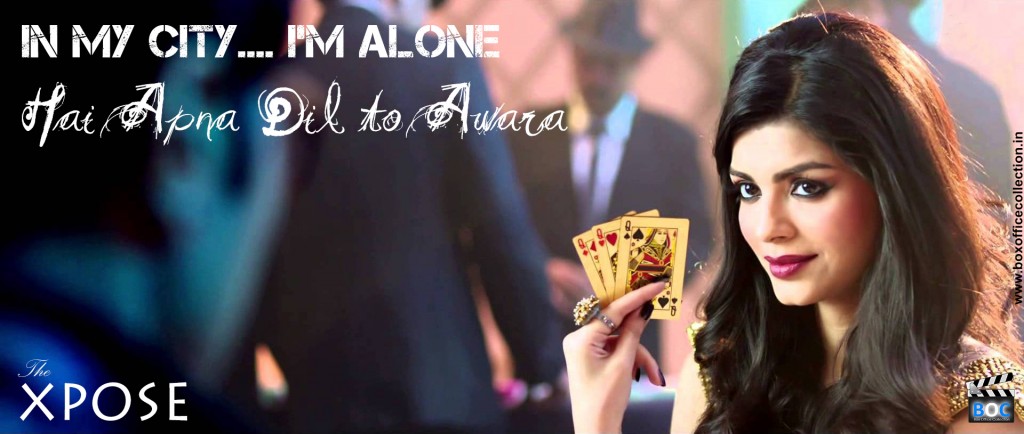 Hai Apna Dil- The Xpose Song Full lyrics
Everybody!
This is my story
This is what I feel everyday…So lonely
In my city, I'm alone
Main hi na janu
Ke main hun kaun?
I love you lady, please be mine
Jo haan tu kar de
Then I'll be fine
In my city
I'm alone
Main hi na janu
Ke main hun kaun?
Hai apna dil to awara
I love you lady
Please be mine
Jo haan tu kar de
Then I'll be fine
Din ho chahe raat
Ho rahi yeh bas aashiqui ka mara
Hai apna dil to awara
In my city
I'm alone
Main hi na janu
Ke main hun kaun?
I love you lady
Please be mine
Jo haan tu kar de
Then I'll be fine
Baaton Baaton me wo kya baat ho gayi
Ajnabi si khalbali saath ho gayi
Dil ki jeet par meri maat ho gayi…maat ho gayi
Lab khule nahi magar
Aankhon se kar gaya ishaara
Hai apna dil to awara
Din ho chahe raat
Ho rahi yeh bas aashiqui ka mara
Hai apna dil to awara
Mausam aaj toh bada bekarar hai
Aise mein mujhe tera intezar hai
Kar le ishqbaziyan din hi chaar hain
Din hi chaar hain
Khoya khoya rehta hai
Teri hi bekarari mein bechara
Hai apna dil to awara
Din ho chahe raat
Ho rahi yeh bas aashiqui ka mara
Hai apna dil to awara
Hai apna dil to awara…