Issey Kehte Hain Hip Hop- Honey Singh new Song Released Out
Here in this article we bring you the earnest information regarding the latest upcoming song of the Indian rapper king cum hit singer Yo Yo Honey Singh. After giving so many hit songs for Bollywood in the recent timer, now he is coming with his with a bang through his new song named Issey Kehte Hain Hip Hop. This song is being publicized greatly and all the fans of Yo Yo Honey Singh are excited to hear this sing. This track is in the vocals of hit international Punjabi singer Honey Singh who has entered Bollywood industry little time back but has got marvelous response and also Li'l Golu who is a rising star. The lyrics for this song has been opened down by both of these stars while the music has been given by honey Singh himself. This song is releasing on 21 June 2014 under T-Series.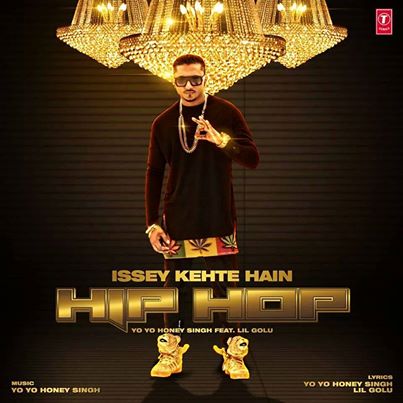 Issey Kehte Hain Hip Hop is the latest song that has been sung by Yo Yo Honey Singh and is all set to hit the media very soon. Below we are providing you more details about the song so that our lovely viewers can have the required info about their search item.
Full lyrics with the music of this song have not been released now and you have to wait for 21 June 2014 for assessing this latest song from your favorite singer.
Additional Details about Issey Kehte Hain Hip Hop Song of Honey Singh-
Song Name: Issey Kehte Hain Hip Hop
Singers: Yo Yo Honey Singh
Music Director: Yo Yo Honey Singh
Lyricist: Yo Yo Honey Singh & Lil Golu
Movie/Album: Singles
Duration: 3.21 minutes
Below we have the provided the lyrics as much we have come to receive till now-
Issey Kehte Hain Hip Hop- Song Lyrics
Shuru Kia Maine as a Music Director
Aaj mere yaar dost bade bade actor
Vaise Bollywood me aati roj Picture
Par Super Hit Picturo ka Yo Yo X Factor
Ye mai Nahi Kehta Vo Khud yehi maante
Hoyle ki Khaan me Heere ko Pehchaante
Middle Class boy aaj Super Star hai,
Chartered me ghume or Char Badi Car hai
Billion Dollars , I dont give a damn
Kudiya Shudiya I dont Give a Damn…
Badi Hai Soch Meri Bade Hai Plans
Jo Kuch bhi hu aaj, Because of my fans
Jo bhi maine bola wo mei kar k dikhanuga
Mere liye dua karo Grammy le aaunga
Kasam Bajranj Bali ki, Desi Ghee k Boondi Shakkar bhare batwaunga…
Mai Grammy le aaunga
will be completed soon