Coconut Motion Pictures and Actor Prepares, Mumbai launched the trailer of their upcoming film Ranchi Diaries on September 13 in Mumbai along with the film's cast, led by Mr. Anupam Kher. Lending the veteran actor support were some of the finest directors of Indian Cinema – Mahesh Bhatt, David Dhawan and Rohit Shetty, all of whom have played an integral part in Mr Kher's journey so far.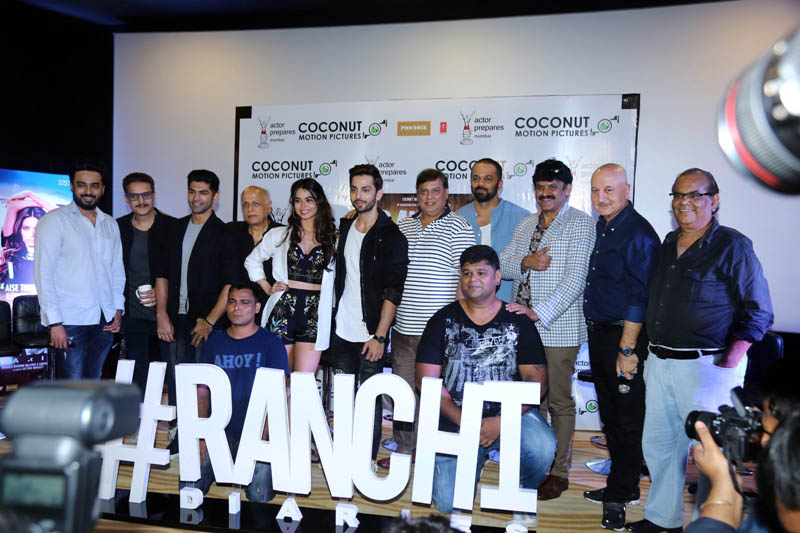 Earlier this month, Bollywood's queen Kangana Ranaut launched the first song of the film titled 'Fashion Queen', which has continued to receive immense appreciation from audiences across the country.
Releasing on 13th October 2017, Ranchi Diaries, is a slice of life comic small-town tale which will resonate with young urban and heartland audiences alike. The film features Anupam Kher, Jimmy Shergill, Satish Kaushik, Soundarya Sharma, Himansh Kohli, Taaha Shah, Harry Bala, Pradeep Singh in lead roles. It's a film by Sattwik Mohanty and produced by Coconut Motion Pictures in association with Actor Prepares, Mumbai.
Ranchi Diaries depicts the story of Gudiya and her friends who hail from a small town Ranchi. Gudiya dreams of becoming a pop sensation like Shakira. Her talent draws unwanted attention of the local Mafia kingpin Thakur bhaiya leading her to elope with childhood love, Manish. A chain of events occur and create a ruckus.
To get out of this mess, Gudiya and her friends plan a bank heist. Their ambitious bank heist becomes the joke of the town when they attempt it. Amidst the chaos between the goons and the cops whether Gudiya and her friends can make it to survival, is what Ranchi Diaries all about.