Celebrate 'Holi' with Bollywood Songs
Over the years Bollywood has been successful in capturing all the colors and the moods of Holi. But which Holi songs are the most popular; the ones that will assuredly make people get up and dance? Holi has become one of the most popular festivals in Bollywood movies. Many Holi songs have made this festival memorable, checkout the list below and add more in comments.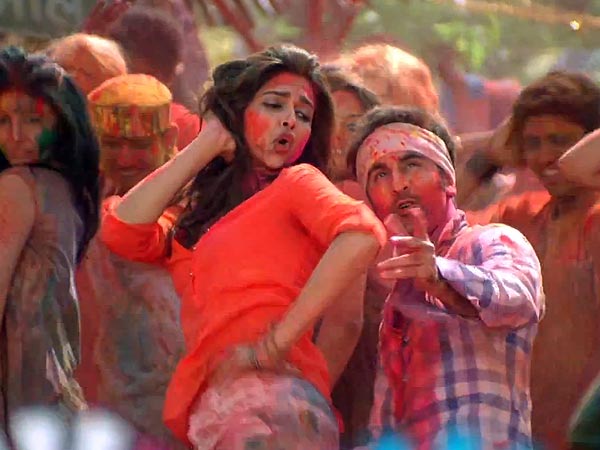 Rang Barse: This song from Silsila is all about celebration of colors with your family and friends. This song features Amitabh, Rekha Jaya Bachchan and Sanjeev Kumar.
Holi Khele Raghuveera: There is yet another Holi song from the movie Baghban, features Amitabh Bachchan in his mischievous mood. Also features beautiful Hema Malini splashing colors and enjoying this festival with the entire family.
Holi Ke Din: It is one of the best Bollywood Holi songs which are played every time during Holi. It features Bollywood couple Dharmendra and Hema Malini. The couple had best onscreen chemistry in this foot tapping number from Sholay.
Saat Rang Mein: This song Saat rang mein is one of the memorable numbers in Bollywood. From movie Aakhi Kyon features Rakesh Roshan-Smita Patil-Tina Munim.
Ang Se Ang Lagana: This song is one of the best Holi songs. From the movie Darr and features Anupan Kher, Tanvi Azami, Juhi, Sunny Deol and Shah Rukh Khan. It will make you dance like crazy!
Arey Ja Re Hat Natkhat: This historic song has become a cult Holi song this list can't be complete without this beautiful number.
Mal De Gulal Mohe: This song is one of best and popular Holi song played during the festival. Starring Rakesh Roshan and Jayaprada the song adds lots of fun in this colorful festival.
Tan Rang Lo Ji: This song from movie Kohinoor is one of the oldest Bollywood Holi songs. The song features Meena Kumari and Dilip Kumar splashing colors on each other. Though the film is in black and white the song makes feel colorful with its feel.
Aaj Na Chodenge Tumhe: The song from Kati Patang is all about colors and enjoying the festival this colorful festival with your loved ones. It features one of the best Bollywood couple Rajesh Khanna and Asha Parekh.
Rang Di Rang Di: It is apt for the high spirited festival, this song from the movie Dhanwaan adds a lot of fun and masti in the festival of colors.
Lets Play Holi: Do me a Favor Let's Play Holi from Waqt; The Race against Time is one of the modern day Holi song and it's quite catchy especially it's chorus. Features Akshay Kumar and Priyanka Chopra, the song adds a lot of fun to this colorful festival.
Balam Pichkari: The most played Hindi song in such joyful occasion especially Holi. This song of movie Yeh Jawani hai Deewani features Ranbir Kapoor and Deepika Padukone, no doubt this is the best new time song to move your grove.
Ae Gori: Another dancing song for Holi is from the movie Delhi Heights sung by Kailash Kher in a mast-malang style.