[Total:

9

Average:

4.6

/5]
Being in huge hypes and media buzz from long time, now finally announcement has been made for the release of official trailer of upcoming Bollywood movie – Brothers. Starring Bollywood action hero Akshay Kumar in the lead role; movie is a total entertainment blast for all the action lovers and the fans of Akshay Kumar obviously.
Brothers being an action cum drama movie having international level stunts, action sequences and ultimate story, its trailer is expected to give a glimpse of the movie in short. The movie was in media buzz due to many reasons one after other in the past months for its release date etc. But now the movie makers have made it clear that very soon the official trailer of Brothers will hit the media and internet.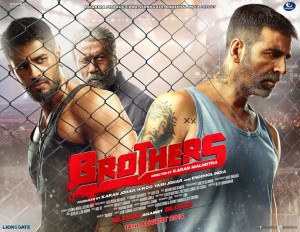 Audience is so excitedly waiting for the release of the trailer as the movie up to now has created lot of buzz and suspense that what is the movie based on, what is the new look of Akshay now and what is the level of amazement that the trailer will put all of us on.
Reports revealed shows that Brothers first official trailer will be unveiled this new month on June 10, 2015. Though official trailer of very hyped and buzzed movie Baahubali is also hitting the media this month but on 1st June i.e. today, so if Brothers trailer also hit quite near then June would be entertaining for audience.
Brothers trailer is expected to be a great entertainment dosage and something unusual than the normal action movies. Also look of Akshay after interesting one in Gabbar Is Back might be like always different but still most charming and handsome. People are very fascinated to see this hit actor once again after Holiday, Baby and then GIB.
Let's wait for 10 June to unveil the mystery from the box, till then stay connected with us for latest updates.