'1982- A Love Marriage' Releases on 26 February 2016
Prashant M Gorey, who has assisted renowned director Sudhir Mishra, launched the trailer of his directorial debut, '1982 – A Love Marriage' along with the star cast of the film on Thursday.
At the event, Gorey told media, "The entire setting of the film including the picturization and cinematography is carried out in such a manner that it creates a feel of the 80's. We have targeted that audience who are confused whether love marriage is a success or arranged marriage. We are showing a conclusion as to which of them is a success."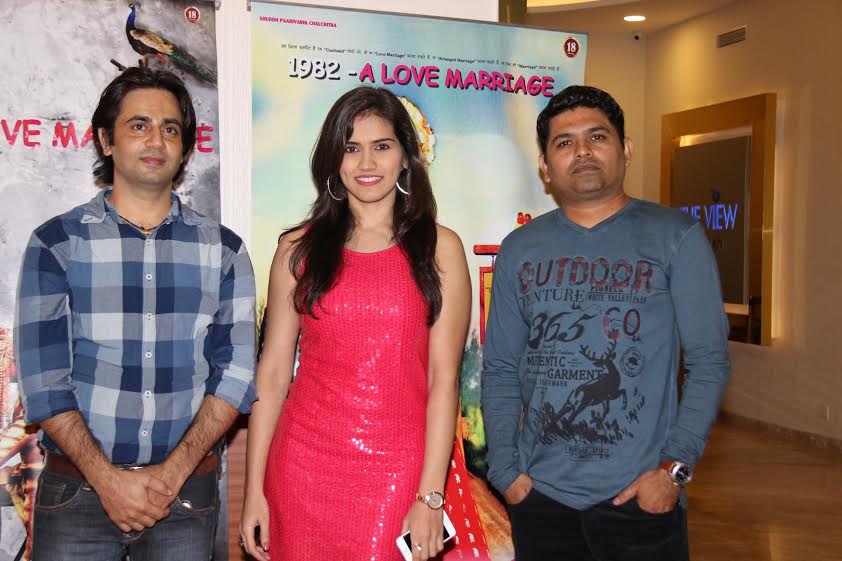 The film is a comedy set in the 80's in the hinterland of the country. The backdrop of the plot revolves around a man who is excited about the concept of love marriage and is a crazy fan of Kumar Gaurav's film, 'Love Story'. But due to circumstances, he has to do an arrange marriage, but his dreams of a love marriage doesn't end and the story talks about how he goes about achieving his wish.
Lead actor Amit Kumar Sharma said, "There are numerous divorces happening, none of the marriages are working, during the 80's but there were only arranged marriages and they were successful. For the character, I could catch the traits from my own thoughts. I met numerous people to prepare for the character, especially the youth and I didn't have to search anywhere. During the 80's and 90's, people started moving towards love marriage but according to a recent survey we did, the youth is again towards arranged marriage."
About her character, lead actress Omna Harjani said, "She is a very simple village girl who has always obeyed all of her parent's instructions and so she married according to their wishes. She is meeting her husband for the first time. In the village that we shot, I met several ladies saw their lifestyle and mannerisms and observed them, because I haven't gone to a village before. But it was a beautiful experience since they are so innocent."
The film is produced by Shiv Kumar Sharma and 18th Media Ventures shall be releasing the film on 26th February.