#BBTrailerToday – First Offical Trailer of Bajrangi Bhaijaan
After so much wait, finally the official trailer of Salman Khan's much awaited movie Bajrangi Bhaijaan is releasing today at 5 pm. On 28th May, official teaser of the movie was released out which created huge excitement among fans. The teaser got more than 1 million views within 24 hours of its release. Now the complete trailer of movie is releasing, so it is obvious that the craze of fans will be on next level. Bajrangi Bhaijaan is scheduled to be released this Eid and its trailer is releasing with Ramadan.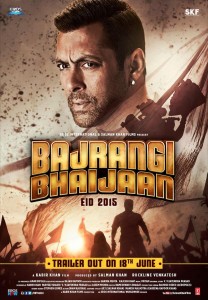 Teaser has already unveil the story of the movie, the trailer is the detailed version of its teaser. Now its time to watch action sequences and kick-ass dialogues of Salman in the movie. Audience loves Salman for his dabangg style, so now its time to show his style in Pakistan. Trailer is also showing the romance of Salman & Kareena which was only for a second in teaser. Bollywood's one of the finest actors Nawazuddin Siddiqui is also in the movie, the trailer with remove curtain over his actual character in the movie.
As per the reports, the glimpse of romantic number "Tu Chahiye" sung by Atif Aslam will also be seen in the trailer. All these things will definitely set fire on internet, Bajrangi Bhaijaan is already in trend from last week. Today is already festival day, and the releasing of trailer is making it more happening. So "all the Salman fans" get ready to be the first to watch trailer of Salman Khan's Bajrangi Bhaijaan.