Singham Returns Official Trailer Released on 11th July
*Updated
After many controversies, and creating lot of buzz in the media regarding different points, finally the lead actor Ajay Devgan has teased details about the first look movie trailer for Singham Returns. The Rohit Shetty directed action project sees Devgan reprise the role of Police Inspector Bajirao Singham. As we know that Singham Returns is the upcoming Bollywood movie starring Ajay Devgan and Kareena Kapoor in the lead roles, audience is extremely excited to see Ajay Devgan one more time in the super action packed avatar as they had seen in the prequel Singham which was a huge hit and a blockbuster movie. One of the highest grossing movies of 2011, the original film saw Devgan appear opposite star of south Indian cinema Kajal Agarwal but this time Kareena Kapoor will be seen setting fire on box office with Ajay Devgan.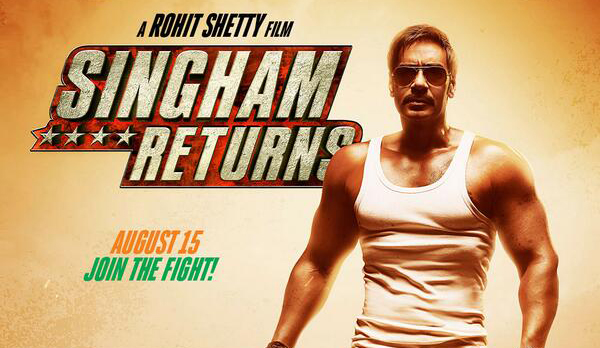 As per the latest Reports the official trailer is scheduled to release on July 11, while the project's first poster emerged on July 6. The sequel will see Kareena Kapoor working alongside Ajay Devgan in the lead female role. Anupam Kher also plays a significant role in the film. Singham Returns is scheduled to release on August 15. It is being expected that audience will love the trailers and it will definitely set a trend on YouTube .
Ajay Devgan entertained one and all with his hot body and power packed action in Singham. Now, the actor is back with Rohit Shetty's Singham Returns. Posters reveal both the lead star cast in very hot and rough looks. We are expecting trailers to be somewhat action filled describing Ajay macho and manly voice plus attitude once again. Or might it can be a romantic scene with the female lead Kareena Kapoor. Whatever the trailer will show, audience is going to enjoy the teaser and very soon the full movie.