Tera Naam Doon- Second song of Its Entertainment
Atif Aslam first time giving his voice for Akshay Kumar in song 'Tera Naam Doon' from 'Its Entertainment' movie
We have updated our viewers in earlier articles about the Akshay Kumar's upcoming comedy film Its Entertainment which is being eagerly awaited by the fans and audience all over, now we have some big and good news for Akshay Kumar fans and Atif Aslam lovers about the latest venture of both these stars of their own fields. Atif Aslam and Tips India just confirmed recording a song for Akshay Kumar's upcoming movie "It's Entertainment'. As seen on the many pictures revealed in media, music director Jigar Saraiya and Atif Aslam were at the studio in Dubai where both seem to be giving a look of something big is coming out soon (23rd June 2014).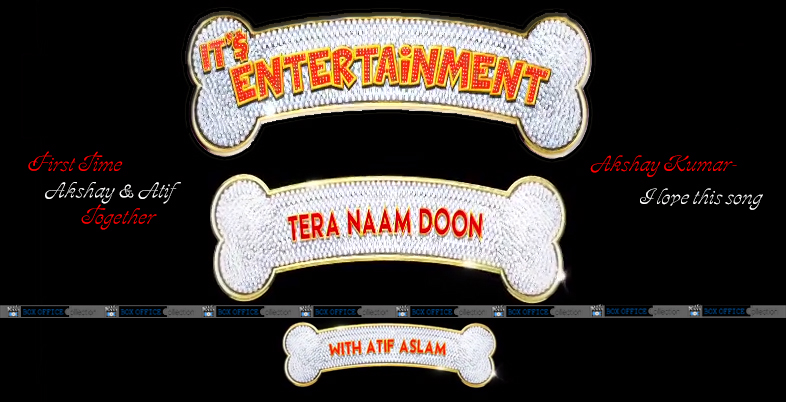 From reports it has been confirmed that the song is titled as Tera Naam Doon and the voice has been given by the hit singer Atif Aslam and features the Khiladi Kumar Akshay Kumar who is playing the lead role in this movie.
It is the first time that Akshay Kumar and Atif Aslam will be seen in any association in any film.  For the very first time in the Bollywood history, Atif Aslam has given voice for Akshay Kumar in this latest song Tera Naam Doon. We have heard many hit songs from Atif Aslam singing for different actors of Bollywood and audience craze for his songs. We have also seen Akshay Kumar fans enjoying the music of his films which is mostly hit all the time. So this time both these hit stars are coming together with some bang through this latest song Tera Naam Doon. Now the audience can enjoy this song as it has been revealed on the social media and internet. So all the fans of both these stars don't need to wait anymore, the song is releasing just after 3 days on 23rd June 2014.
Let us provide you some more additional details about this upcoming song from upcoming movie Its Entertainment below. 
Song Name: Tera Naam Doon
Movie Name: It's Entertainment (2014).
Cast: Akshay Kumar, Tamannaah Bhatia.
Lyricist: Priya Panchal
Singer: Atif Aslam.
Music Director/Composed: Sachin – Jigar.
Tera Naam Doon (Atif Aslam)- Full Lyrics
Koi…jaage soye mujhme
Meri raatein aur mere din
Saare khoye usmein…
Koi itna apna laage
Mera nadaan ye dil
Jaise dhadke usmein…
Mujhe jo hua hai
Iski na dawa hai
Kisi ne chhua hai dil yeh
Kiski nazar ka hai asar
Poochhe jo koi toh Tera Naam Doon
Poochhe jo koi toh Tera Naam Doon
Main Keh doon sabhi ko
Ki tera hi hai yeh asar
Poochhe jo koi toh Tera Naam Doon
Poochhe jo koi toh Tera Naam Doon
Koi dastak de ke dil pe
Milne ko aata hai
Mujhme reh jata hai
Koi kismat jaise lage
khushiyan in haathon pe
Likhta hi jata hai
Yeh kaisi khata hai
Jiska na saza hai
Jisi ne chhua hai dil yeh
Kiski dua ka hai asar
Poochhe jo koi toh Tera Naam Doon
Poochhe jo koi toh Tera Naam Doon
Zari wale kagazon me
Lipta hua…
Kitne haseen rango me
Ranga hua…
Yeh kya Tohfa
Khuda ne, Mujhe hai dediya
Yeh kya Tohfa
Khuda ne, Mujhe hai dediya
Labon se raaz yeh
Fisal na jaye na
Labon se raaz yeh
Fisal na jaye na
Peeghalne laga hai
Iske liye mera sabar
Poochhe jo koi toh Tera Naam Doon
Poochhe jo koi toh Tera Naam Doon