2 States: Analyst Review & Public Response before Release
2 States is the story about two varied cultures coming together. This is the story of Ananya and Krish, bounded aesthetically in the chains of religion and caste. It showcases how even after so many years of independence India is still entangled in the chains of caste and creed. The world has moved ahead but their families are still stuck upon the old hypothesis of 'same caste marriage'.
Ananya is the South Indian sweet and charming lady with wits and looks in a perfect combination. Krish the IIT passout on the other hand is very timid and shy. The first day in the canteen they encounter each other and the story begins. This tale of pure love and laughter takes you all from the college corridors to classrooms, from Chennai to Delhi and from Ananya to Krish's family.
Love does not come easily as they say!! That is where the whole family drama starts. Ananya's parents have problems with Krish, and krish's parents have problems with Ananya. Both their families have problems with each other. Quite confusing it seems, but real tragic it is.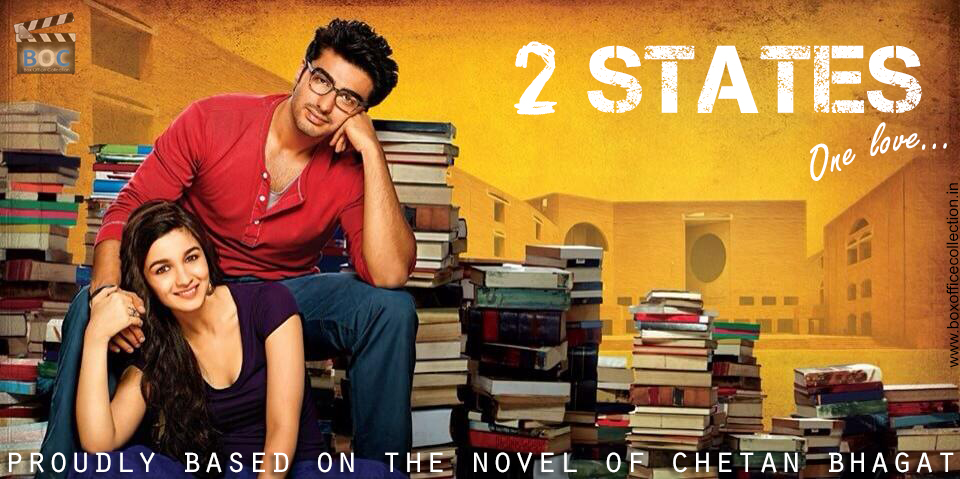 Talking about the cast, Alia Bhat the newbie is all ready to set the theatres on fire with her innocence. While, our hero Mr. Arjun Kapoor's mushy lines to his lady love makes the audience fall in love with him. This is the struggle for love. This is the struggle for freedom and this is the struggle to break all the bonds between their families. This story creates love, spreads love and teaches love. How beautifully have everything been crafted in the story is worth some hundered bucks.
A perfect cast with an excellent director and producers. A Karan Johar film never fails on the screen. Plus being an adaptation from Chetan Bhagat's novel it is sure to make its piggy fill with some money.
The last adaption from Chetan Bhagat's 'Five point someone' gave us '3 idiots', the movie that stole billion hearts. That was the kind of movie everyone cherished so well. Audience this time expects much more and something new from 2 States. The fine pairing between Alia and Arjun is most hyped about and is sure to steal billions of hearts. The movie gained too much popularity when the trailer was launched due to high reach and success of the novel '2 States' by Chetan Bhagat. The sizzling chemistry between the stars and the light tragic comedy will keep you on your toes.
This movie will surely be a hit and we would advise people to go out and watch it in the theaters near you on 18th of April.