2 States Movie Wiki- Releasing on 18th April 2014
It will be around 5 years from now that we have read the book of famous novelist and writer Chetan Bhagat named 2 States. As he have already provided stories to many super hit Bollywood movies, now one more time the audience will be delighted to get experience of his another great writing in the upcoming film 2 States. It is based on an Indian love story. All those who have already read this book will be excited to see who are going to play the characters and how. The movie will be released by the same name as Chetan Bhagat's book and has been adapted to screen play by Abhishek Verman. The producers are Sajid Nadiadwala and Karan Johar. A large part was shot in Chennai, Delhi and Ahmadabad, the three being prominent places in Chetan Bhagat's novel. The genre of the movie in accordance with the book is romantic drama.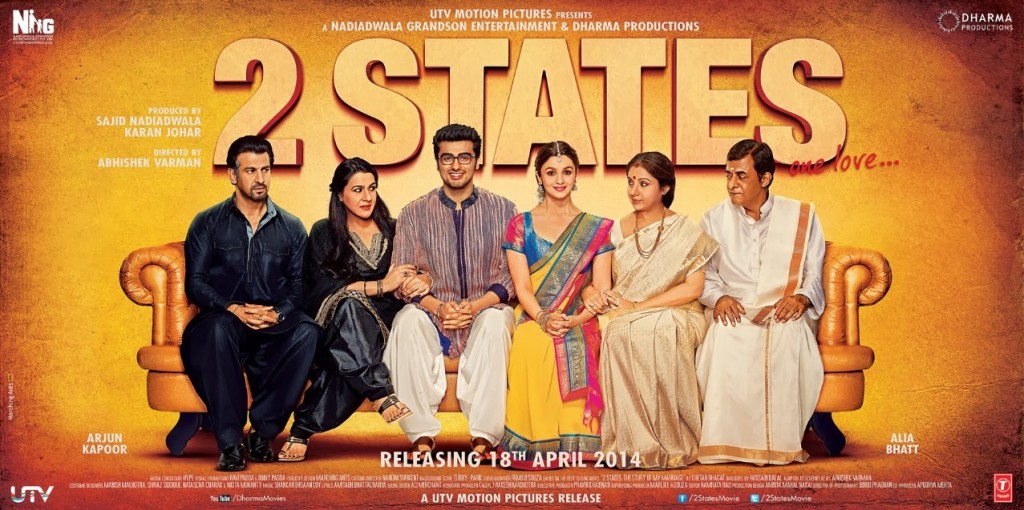 Star Cast
It was revealed quite before that who are going to be lead star cast of 2 States. Audience is looking forward for the Arjun Kapoor and Alia Bhatt starrer movie of the novel '2 States'. Viewers can see Arjun Kapoor as Krish Malhotra, a Punjabi boy studying in IIM Ahmadabad and Alia Bhatt as Ananya Swaminathan also a student of the same college.
Story
Story of the film is about the true love of an Indian couple from different social background and all the difficulties they face from the community ad society's attitude towards their love relation. Arjun Kapoor is a Punjabi boy, graduate from IIT, presently studying in IIM Ahmadabad. Here, he meets a south Indian girl Alia Bhatt. After a few mutual interactions the two fall in love. As they belong to two different cultures which are poles apart so in order to get married, they not only have to break the shackles of cultural differences, but also convince their parents.
Music
Music of 2 States as per the reports has been composed by the very hit and famous singing trio of Shankar – Ehsaan -Loy who are countrywide claimed artists. Songs of this love story have not been released yet neither any trailer has been sighted on internet or any music track. Poster of the film has been revealed which shows both Alia and Arjun very cute and nice.
Promotions
Promotions of this film have not been started yet by the film makers or the star cast too. But soon the star cast will be seen in the media and other relative platform promoting together their upcoming romantic film. Buzzes have already started waving around the Bollywood regarding the chemistry and performance of both the lead stars.
Trailer of 2 States Released on 28 Feb. 2014
First official trailer of 2 States has finally released on interest and has started getting ultimate publicity and likes form the very first hour of its release. Both the lead star cast Alia Bhatt and Arjun Kapoor are looking very cute and descriptive in their characters. Alia seems very charming and on the other hand Arjun Kapoor looks amazing in his new look. The trailer is fantastic and being loved by most of the viewers. It creates an excitement among the audience for the film to get release soon.