Ab Tak Chhappan 2
Bollywood is once again ready to experience the phenomenal actions and acting of the hit actor Nana Patekar. His upcoming movie Ab Tak Chhappan 2 will be releasing on box office in the end of this month on 27th February 2015. It is sequel of the first hit installment Ab Tak Chhappan. It has been produced by Raju Chada and Gopal Dalvi. The film is directed by Aejaz Gulab and scripted by Nilesh Girkar. It has got the film much publicity and buzz in the media due to being sequel. It is an action & crime based movie ready to hit the screens with bang.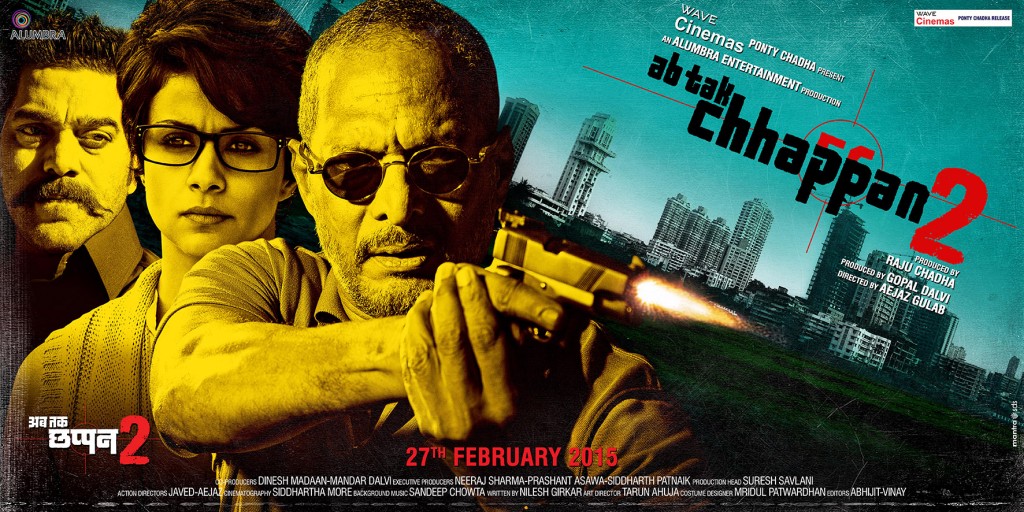 Star Cast
There are many actors in the movie but the two main which are most popular are Nana Patekar and Ashutosh Rana playing the main characters. As indicated by the name, film is purely based on crime genre and Nana Patekar in role of Inspector Sadhu Agashe will again entertain the viewers. Gul Panag is also playing an important role in the movie.
Story
The film is based on the story of an inspector, crime, rivalry, action and all such stuff. It is undoubtedly a pure action & crime based scripted film hence only for youth or action lovers. Film takes on with the story left in first installment and is quite inter related.
Music
Till now songs of Ab Tak Chhappan 2 movie have not released on television but the trailers are showing that the music of the film is going to rock the chartbusters completely. It has been given by Amal Mallik. It is not a big budgeted film but is quite impressive in terms of acting and performance.
Promotions
Very soon the star cast will be seen promoting their film on television shows also. Right now they are promoting film on events etc but not very widely on media. Still the buzz is quite in its favor nowadays due to being sequel of such a good movie.
Trailer
First official trailer of Ab Tak Chhappan 2 released shortly. Both the main actors look fantastic in their characters. Trailer seems quite lucrative and so far has gained good response from the audience.
We expect Ab Tak Chhappan 2 to be a good runner on box office race and that this action cum crime venture shoots out the box office collections in its favor when it gets released finally.