'Akshay Kumar' is being Praised by Everyone for Airlift
The film based on the true event of 1990 when Iraq invaded Kuwait, Airlift is winning hearts in theaters. The film is getting tremendous response beyond expectations and flying high on buzz among audience. All the critics have reviewed it with super positive comments and showing thumbs up to it. Fans of the star were eagerly waiting for the film from long time, finally the day has come and they find it outstanding. Each and everyone is praising the performance of Akshay Kumar, once the actor has proved his versatility and has delivered the best performance of his career till date.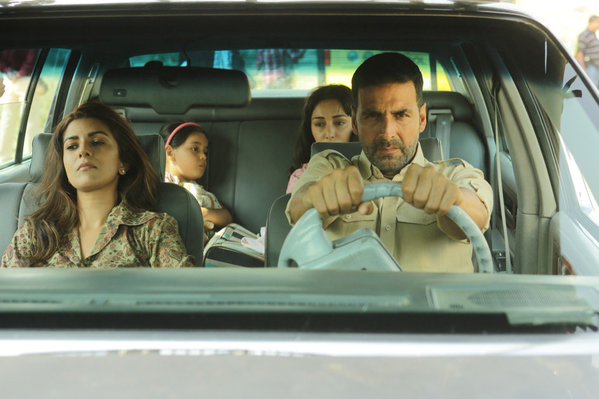 One of the well known critics, Taran Adarsh has said- "#Airlift is a must must watch. One of the finest films to come out of the Hindi film industry. Just do not miss this one!". About the performances of cast he tweeted- "Akshay Kumar is OUTSTANDING. His performance is the soul of #Airlift. An award-worthy act. Ranks easily amongst his finest works". "Nimrat Kaur is first-rate throughout, confrontation scene is memorable. Inaamulhaq [Iraqi Major] and Prakash Belawade are terrific." he added.
Another critic Joginder Tutega said- "Airlift is a terrific film in all regards. A tightly woven script that has realism meet entertainment, it makes you watch it wide eyed. Invasion scenes are superb and the constant presence of Iraqi army in Kuwait sends a shiver down your spine. Scares are real!". For the performance of Akshay he added- "he delivers a PERFORMANCE OF A LIFETIME. He brings himself into a new zone with this one. This is true reinvention!".
The editor of Indian Cinema Magazine UK, Kiaara Sandhu has rated the film with full stars and said "Airlift is a Standing Ovation Film! Fantastic Direction, Background Score, Screenplay & Stunts." Akshay Kumar has delivered the award worthy performance in the film and Nimrat is back with bang. "Airlift is the best film ever of Akshay" she added.
Click Here- More Reviews from Critics & Audience