Amit Sahni Ki List Movie Wiki
Amit Sahni Ki List is the upcoming Bollywood Comedy/Romantic Movie which is directed by Ajay Bhuyan. It is the directorial debut of Ajay and it has been produced by Pyxis Pictures. After playing a toy boy in 'Revolver Rani', Vir Das turns the tables in 'Amit Sahni Ki List' where he plays a serial dater. The film under production is already collecting some news for some of its interesting scenes in movie. So audience is aware of this film and it may be expected to entertain its viewers. Amit Sahni Ki list is a movie with an entire new faces for film cast as well as most of the film crew as well. Below we have listed one by one additional details about this upcoming movie for our viewers.
---
Amit Sahni Ki List Movie Poster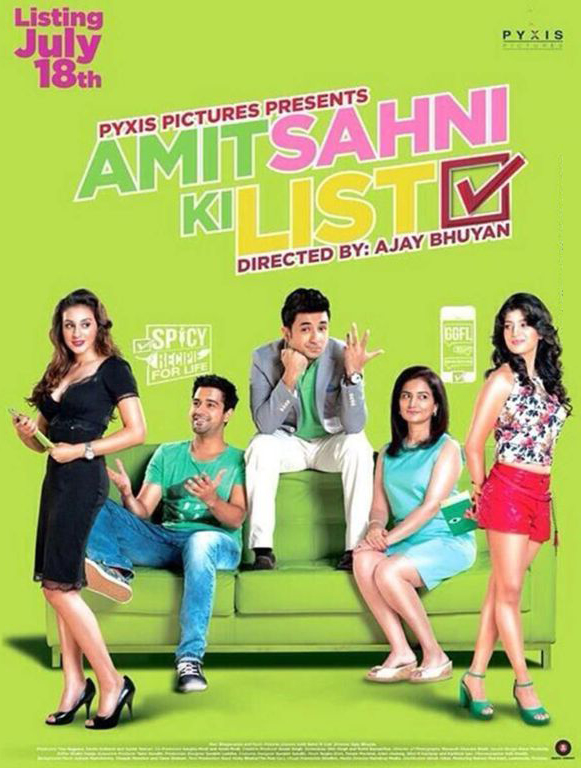 ---
Release Date
It is an upcoming Bollywood movie and the release date has finally been revealed by the film makers on social media. Amit Sahni Ki List will hit the theaters worldwide on next month. The movie is set for release by 18th of July this year.
---
Star Cast
Starring in the movie the known actor Vir Das in the main lead role, Amit Sahni Ki List is a romantic comedy and also stars Vega Tamotia, Kavi Shastri, and Anindita Nayar. Most of the faces present in the film are new for the audience and they may be interested to see their performances first time. Film has got some other supportive star cast also in auxiliary roles and characters.
Detailed Star Casts of Amit Sahni Ki List are –
Vir Das
Vega Tamotia
Kavi Shastri
Anindita Nayar
---
Story of Amit Sahni Ki List
Amit Sahni Ki list is a suspense factor which is yet not revealed. It can be the list of his problems in life or anything other. Story of Amit Sahni Ki List is about a boy named Amit Sahni who is looking for a woman for his dreams i.e. a woman of his list. The trailer showcases a depressed Amit, after a painful break-up during his teenage days, noting down all the traits that he is looking for in the perfect woman. Every time Amit goes out on a date, he secretly checks to see if his date matches to his list or not. It looks quite interesting and may attract the audience to the theatres.
---
Music
There is a speciality about this movie i.e. its music which is going to be a big hit for sure as there are so good names associated with its music album. The film will also feature some of the amazing music tracks. The music line up of the film cast includes popular names of Raghu Dixit, Palash Muchhal and also Alein Chutney. You can easily guess from these names that what extent the music of the film will be.
---
Promotions
Amit Sahni Ki List has been directed under low budget & the film has been shot majorly inside country. Based on the reviews and response movie is receiving audience feedback constantly so it is fair to say that film looks quite promising. Moreover the film is opening platform for many fresh names that can make it big in Bollywood. As per the film crew Ajay Bhuyan has set high goals from the film to perform well on the box office and that is why the star cast and all crew is busy in promoting their upcoming film everywhere.
---
Amit Sahni Ki List Trailer
First official trailer of Amit Sahni Ki List movie has been released and audience has liked the content as shown in the trailers. The story seems interesting and character of Vir Das is also very entertaining in the film. By now we have known that the trailers have got good response so it can be said that the film might do a decent business when it gets released on box office. Stay tuned for more updates regarding latest Bollywood films.