The most hyped and expensive movie of Indian Cinema, Baahubali has been released out. Fans as well as audience, all are showing thumbs up to the movie. Everyone find the movie up to level of their expectations, all are looking excited and satisfied after watching Baahubali. Normal shows will start from morning but the hashtag #Bahubali started trending on twitter just after its special shows for guests and fans.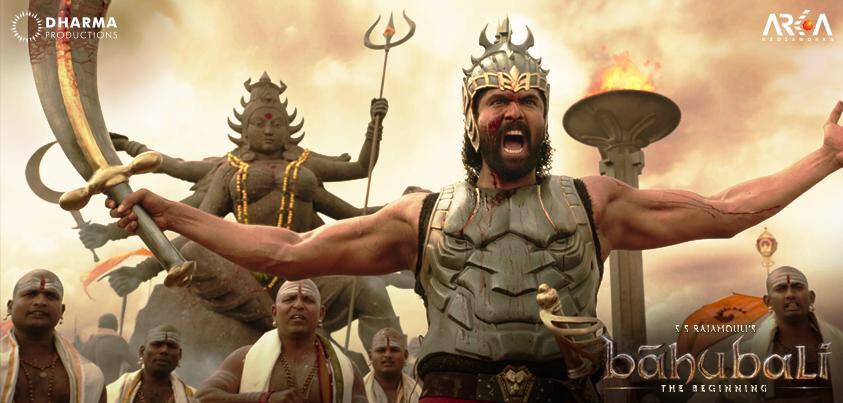 Fans are giving super positive response and reviews to the movie, which increasing the excitement of audience to watch it on first day. Many Bollywood celebrities also appreciating the director S.S. Rajamouli for making such a masterpiece in Indian Cinema. Karan Johar who is presenting the Hindi version of the movie in India, is also receiving appreciations for being a part of such great epic Indian movie.
You can easily experience the super positive waves of Baahubali on social media where fans as well as movie critics positing their reviews.
Karan Malhotra – Bollywood Director
Tweeted "Am lucky to be living in the times of @ssrajamouli. #BAHUBALI is an experience our country will be proud of!!! PLEASE DONT MISS IT!!!"
Jackky Bhagnani – Bollywood Actor
Tweeted "Baahubali-Wat a film simply OUTSTANDING..blows ur mind off soo proud ofdis Made in INDIAN cinema @karanjohar @RanaDaggubati @tamannaahspeaks"
Sophie Choudry – Bollywood Singer/Actor
Tweeted "#Bahubali is the epitome of an #EPIC! Absolutely OUTSTANDING! Kudos to ur vision sir @ssrajamouli & hats off to the entire team! #respect"
Siddharth Malhotra – Bollywood Director
Tweeted "Have sat thru my mouth open in amazement at the scale the detailing the direction basically everything #totally blown #Bahubali @karanjohar"
Salilacharya – Bollywood Actor & RJ
Tweeted "i say this once again .. miss #Bahubali at ur own peril .. its raised the bar for indian cinema .. cant wait for the next part #damn"
Only one negative response

Kiaara Sandhu – Editor (Indian Cinema Magazine UK & UAE)
Tweeted: "After watching trial show of #Bahubali in UAE. All Distributors said,,Sad !! All that Glitters is not Gold. It's Just an AVERAGE film. 2*/5*"
Live Tweets #Bahubali