Bajirao Mastani Trailer Public Response
Bhansali Productions & Eros International's upcoming epic love story 'Bajirao Mastani' is creating huge buzz among audience with its songs & trailer, which has released yesterday on 20th November 2015. The movie features Ranveer Singh, Deepika Padukone & Priyanka Chopra in the lead roles and is scheduled to be released on 18th of December opposite to Shahrukh Khan starrer action comedy Dilwale. This clash will be very interesting; between two much awaited movies of the year.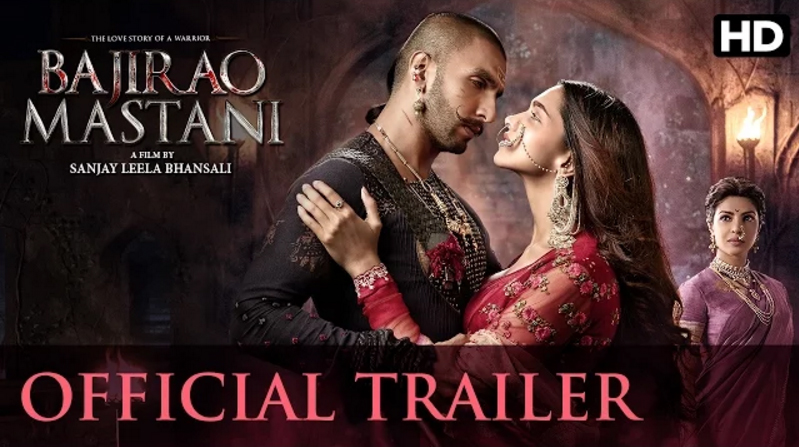 Official trailer of Bajirao Mastani is an upgraded version of its teaser, features the leading characters of the movie in very strong frame, spectacular war sequences and intensive dialogues with chants & shloks in background. No doubt, that the 3:45 min. video has presented the movie as a very strong competitor for Dilwale. This epic love story will remind you Sanjay Leela Bhansali's previous beautiful creations like Devdas (2002) & Ramleela (2013). 
After watching the trailer, everyone has showed thumbs up to it except Shahrukh's fans. Critics as well as viewers are praising it and expressing their eagerness to watch this magnum opus as soon as possible. This year we have seen two historical Indian movies from South Indian Cinema- Baahubali & Rudhramadevi and now the third one is coming up from Bollywood. This movie is not expected to set records like Baahubali, but has caliber to be listed among top 5 highest grosser movies of the year.
Dialogues in 'Bajirao Mastani'
[Deepika Padukone as Mastani]
Ishq…
Jo tufaani dariya se bagawat karjaye…woh ishq
Bhare darbaar mein jo duniya se ladd jaye…woh ishq
Jo mehboob ko dekhe woh khuda ko bhool jaye…woh ishq
[Priyanka Chopra as Kashibai]
Heere mein heera ho toh, usse kehte hain kohinoor
Rao ka naam lete hi, Kashi ke chehre pe aata hai noor
[Deepika Padukone as Mastani]
Kiski talwar par sar rakhun, yeh bata do mujhe
Ishq karna agar khata hai, toh saza do mujhe
[Ranveer Singh as Bajirao]
Cheeteh ki chaal, Baaz ki nazar aur Bajirao ki talwar par sandheh nahi karte
Kabhi bhi maat de sakti hai.
[Deepika Padukone as Mastani]
Yoddha hun, thokar patthar se lage
Tab bhi haath talwar par hi jata hai
[Priyanka Chopra as Kashibai]
Aap humse hamari zindagi maang lete
Hum aapko khushi khushi de dete
Par aapne toh humse
Hamara guroor chheen liya.
[Ranveer Singh as Bajirao]
Bajirao ne Mastani se mohabbat ki hai
Aiyashi nahi…
[Ranveer Singh as Bajirao]
Humare dil ek saath dhadakte hain Mastani
[Deepika] Aur ek saath rukte bhi hain.