Bewakoofiyaan Wiki: Releasing 14th March 2014
Here we bring you latest info and wiki of the upcoming Bollywood romantic film Bewakoofiyaan. Starring first time together Ayushmann and Sonam are looking great in their looks and chemistry is also very fantastic. This young romance is going to release on box office on 2nd week of March on 14th.  As the film is releasing near the time of Holi so it's a great advantage for the film makers to make bigger business. It has been directed by Nupur Ashtana under Yash Raj Films banner. Producer of this commercial is the successful film maker Aditya Chopra. It is a good treat for the couples and youths as it is loaded with much of romance and comedy too.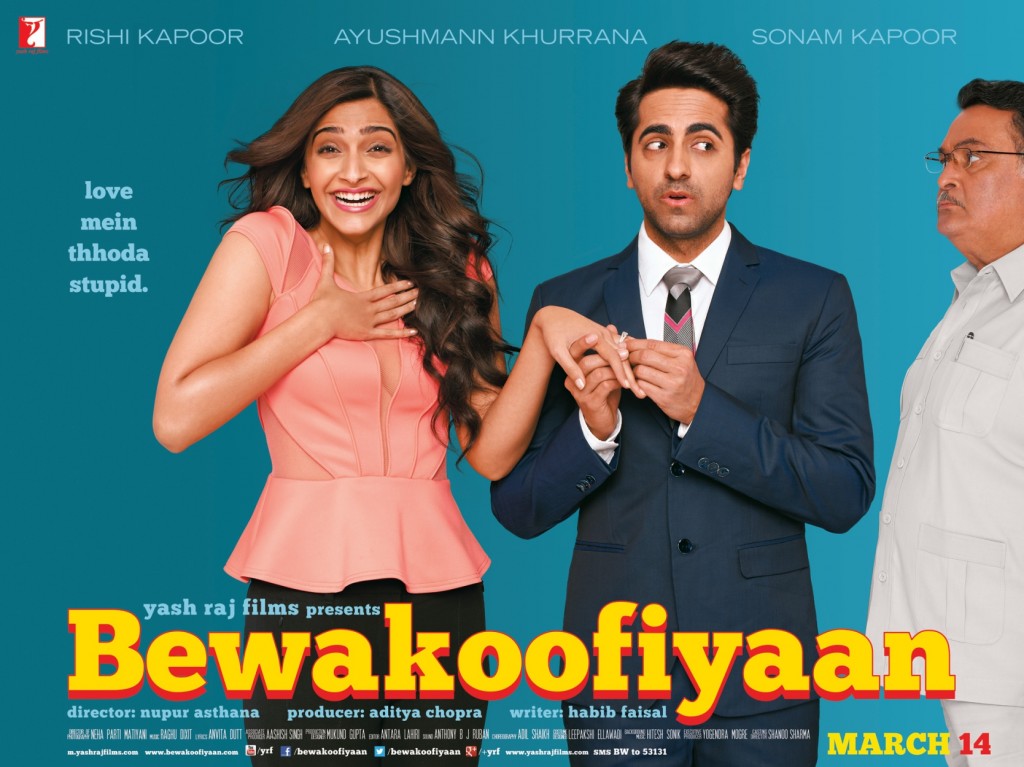 Star Cast
As we have already told you that the lead role is being played by Ayushmann Khurrana and Sonam Kapoor so audience will be watching these two opposite each other as the lovers. Audience will also be able to see the much loved and comic actor Rishi Kapoor along with these two in key role.
Story
Bewakoofiyaan is a romantic comedy featuring Ayushman Khurrana in the character of Mohit Chadhdha who is a normal guy doing a good but not extraordinary job and Sonam Kapoor as a girl named Mayera Sehgal who is a smart and beautiful. Both are in passionate love with each other. But Mayera's bureaucrat father V. K. Sehgal whose character is being played by Rishi Kapoor, is against their love. The movie represents the time of Recession and the obstacles due to the typical thinking of her dad. Story of Bewakoofiyaan movie is full of romance and comedy.
Music
Music of this venture has been composed by Raghu Dixit. Songs of this film are very peppy and catchy. Few have already released and grabbing the attention of audience. There is also a song sung by Ayushman Khurrana in his voice. That is also gaining much publicity and response of the viewers on YouTube as well as television.
Promotions
Yash Raj Films always promises a good quality and fun loving movies. So it is expected that even with less promotional activities this will do good on box office. Both the stars are well known so the promotions are going on a smaller basis.
Trailers
Trailers of the movie have been released days before and have received handsome number of likes. It shows both the star cast in romantic and humorous characters. Rishi Kapoor's role is also being loved by the viewers as seen in the trailers.
We hope that Bewakoofiyaan gets success and lovable response from the audience. Stay touched for interesting updates regarding Bewakoofiyaan and other releases.