Bobby Jasoos Movie Wiki
There may not really be anything in common among the two similar pronounced film Jagga Jasoos and Bobby Jasoos, but in 2014, they would be pitched opposite each other in a very interesting way. While Ranbir Kapoor is coming with his Jagga Jasoos, Vidya Balan would also be seen in Bobby Jasoos. This film is a based a detective in the city of Hyderabad. The film is a basically spy story of a girl who is very independent and ambitious. Bobby Jasoos has been directed by Samar Shaikh and produced by Dia Mirza, Sahil Sangha and Reliance Entertainment. Being a comedy cum spy inspired film Bobby Jasoos is going to be the second project of Born Free Entertainment after Love Breakups Jindagi. We are providing our viewers other important information about this upcoming Bollywood film Bobby Jasoos below.
---
Bobby Jasoos Movie Poster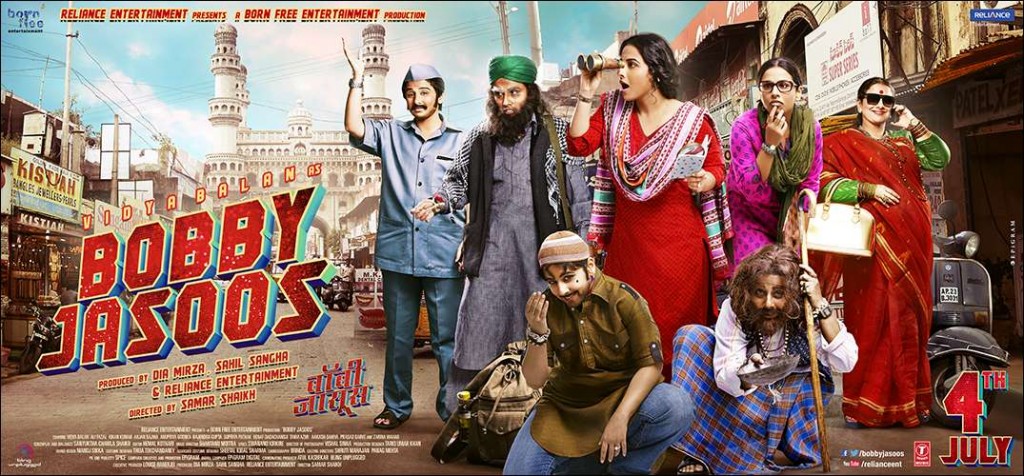 ---
Release Date
Vidya's Bobby Jasoos is not an afterthought of Ranbir Kapoor Jagga Jasoos and this flick will finally hit the box office next month in the starting. Release date of Bobby Jasoos is fixed and as per the sources the film will be in the near theatres on 4th July 2014.
---
Star Cast
Bobby Jasoos is a multiple star casted film with many actors and supportive star cast. Vidya Balan and Ali Fazal is main lead role in the film. The others stars cast Vinay Varme, Gangadhar Goenka, Anupriya Bajwa, Supriya Pathak, Tanvi Azmi, Benaf Dadachandji, Prasad Barve, Aakash Dahiya, Zarina Wahab, Rajendra Gupta, Kiran Kumar, Raina Rao and Tejas Mahajan. They all character are very good acting in the film.
Detailed Star Casts of Bobby Jasoos are –
Vidya Balan as Bilkis Ahmed/Bobby
Ali Fazal as Tasawur as Tasawur
Anupriya Bajwa as Afreen
Supriya Pathak as Ammi
Tanvi Azmi as Kausar Khaala
Benaf Dadachandji as Noor
Zarina Wahab as Afreen Ammi
Rajendra Gupta as Abba
Kiran Kumar as Anees Khan
Raina Rao
Vinay Varme as Ali Fazal
Gangadhar Goenka as Naeem
Tejas Mahajan as Sohail
Prasad Barve as Shetty
Aakash Dahiya as Munna
---
Story of Bobby Jasoos
Bobby Jasoos movie story is totally drama. Vidya Balan is main role of a lady detective in the movie. Ali Fazal is opposite role with Vidya Balan in the film. Bobby Jasoos film in Vidya Balan dreams is biggest detective in the Hyderabad. We advice our viewers to watch the trailers of this upcoming movie to get a better overview of the film and the story.
---
Music
Music of Bobby Jasoos is good and decent. Few songs have already released form the album of this movie. Music of Bobby Jasoos has been given by Shantanu Moitra.
---
Promotions
Bobby Jasoos is a good movie with familiar lead star cast. Film makers of Bobby Jasoos are nowadays busy in promoting their upcoming film in events and social sites and media to gain public attention in their favor.
---
Trailers
You can watch full official trailer of Bobby Jasoos movie below. This is a very drama type movie. Bobby Jasoos movie trailer was released on 27 May, 2014. People who watched the movie trailer said in their views that it is a very comedy and very fabulous film. Vidya Balan is very good and her acting and fabulous as she performed in the trailers.