Daawat-e-Ishq Movie Wiki
Daawat-E-Ishq is an upcoming Bollywood film which has romance, comedy and drama in it. The movie Daawat-E-Ishq is directed by Habib Faisal, and produced by Aditya Chopra, and Sajid-Wajid is given the Music in this fantastic film, this film is making under the Banner Yash Raj Films. The shooting of Daawat-E-Ishq is shot in India and everyone is looking forward to the star cast and every single detail about this upcoming Bollywood film. Here in this article we have mentioned other important facts and info about this film so check out the updates below.
*UPDATED: Trailer Released, scroll down to watch.
---
Daawat-E-Ishq Movie Poster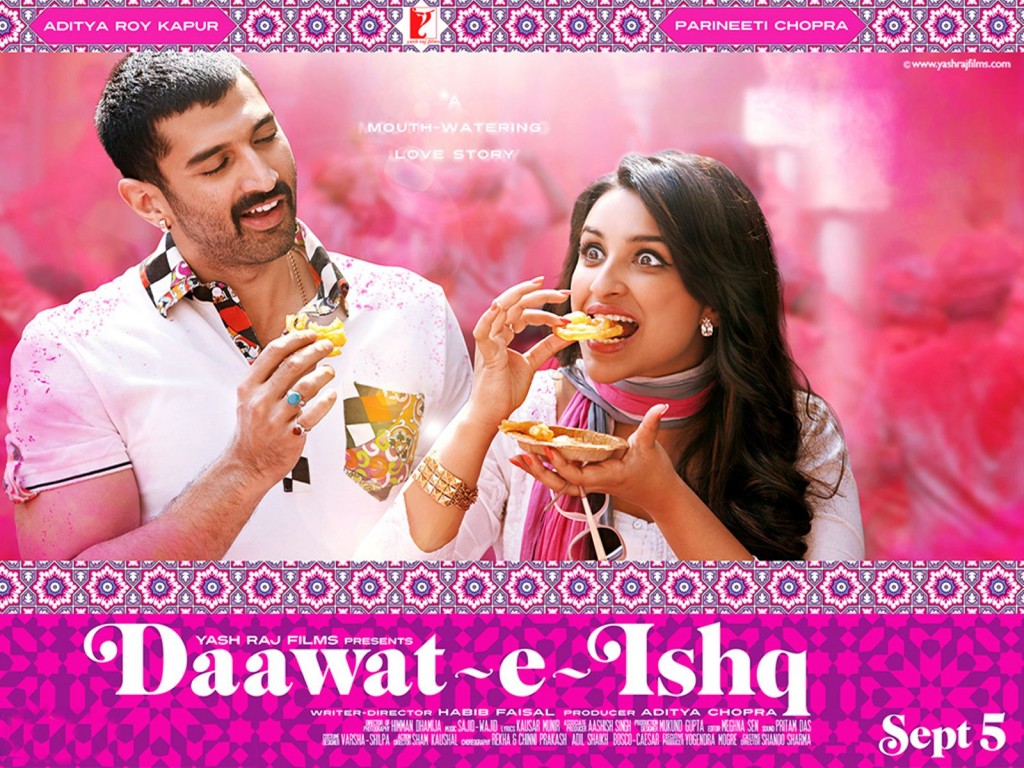 ---
Release Date
Daawat-e-Ishq is set to be released during the later months this year and after much effort and adjustments, the final date of release for this film has been declared to be 5 September 2014. So this interesting movie will be hitting the box office on Teacher's Day and finally entertain the audience.
---
Star Cast
Star cast of Daawat-e-Ishq is very fantastic and audience one of the favorites. Lead roles are being played by the Aashiqui boy Aditya Roy Kapoor and the Ishaqzaade girl Parineeti Chopra. Daawat-E-Ishq is the first movie of Aditya Roy Kapoor and Parineeti Chopra together so audience is really excited to watch these two first stars time together opposite each other.
Detailed Star Casts of Daawat-e-Ishq is –
Aditya Roy Kapoor
Parineeti Chopra
Anupam Kher
Karan Wahi
---
Story of Daawat-e-Ishq
Daawat-E-Ishq is a movie which is full of drama and comedy. It is a story of girl Gulrez Qadir (Parineeti Chopra) and a boy Tariq Haidar (Aditya Roy Kapoor), Gulrez is an shoe-sales girl in Hyderabad, who does not believe in love much after faces an dowry-seeking men. Tariq is an Lucknawi cook who is charms a anybody with his cooked food. They both meet somehow and crush old-fashioned view of world on love. The story of Daawat E Ishq looks different from usual romantic films and it is full of drama, comedy and romance.
---
Music
As we know that the music has been given by the super hit duo Sajid-Wajid, so it is very obvious that this film music will be outstanding and hit the chartbusters. Right now no news and information is available regarding the music of Daawat-e-Ishq as by now no song has released from music album of this movie.
---
Promotions
Daawat-e-Ishq is the first movie of Aditya and Parineeti so viewers are fascinated to see them together in this movie and watch their superb chemistry. There have been searches regarding Daawat-e-Ishq which shows that the film is already getting promoted from very now.
---
Daawat-E-Ishq Official Trailer
Film makers have already revealed its first look poster featuring dashing Aditya Roy Kapoor and beautiful Parineeti Chopra in totally different characters. The first look of this movie is already out and looks quite interesting. First official trailer of Daawat-e-Ishq has been released today on 7 July 2014, you can watch it here.